Theresa May calls on Trump to keep Iran nuclear deal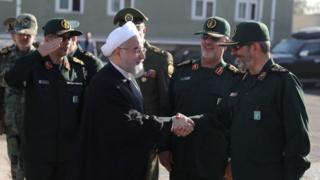 Prime Minister Theresa May has urged the US to recertify the nuclear deal with Iran because it is "vitally important for regional security".
In a phone call with President Trump, Mrs May stressed the importance of the deal being "carefully monitored and properly enforced".
The US President had been expected to scrap the agreement, as he said it did not serve US security interests.
Mr Trump and Mrs May agreed to remain in contact ahead of any decision.
In 2015, Iran agreed to reduce much of its nuclear programme and in return economic sanctions on the region were lifted.
The prime minister and the president discussed the need for the UK, US and others to work together to ensure the deal was being upheld on all sides.
During their conversation, Mrs May and Mr Trump also discussed the impact of the Bombardier trade dispute on Northern Ireland.
Earlier this week, Mrs May reaffirmed the UK's strong commitment to the agreement in a phone call with Israel.