Theresa May promises £10bn Help to Buy boost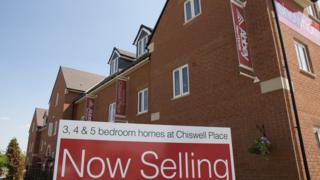 The government will find an extra £10bn for the Help to Buy scheme to let another 135,000 people get on the property ladder, Theresa May has said.
The extra cash will help buyers get a mortgage with a deposit of as little as 5% to buy newly built homes.
Mrs May gave no detail about the source of the funding and said plans would be outlined in the Budget on 22 November.
But think tank the Adam Smith Institute criticised the revival of the scheme, saying it would push up house prices.
The prime minister confirmed the extra funding on BBC1's Andrew Marr Show as the Conservative party conference begins in Manchester.
Helping more people to buy their first home is part of a Conservative push to win back younger voters, many of whom have switched to Labour under Jeremy Corbyn.
Mrs May also promised more safeguards for tenants in the private rental sector and incentives for landlords to offer longer tenancies.
The Adam Smith Institute, a right-wing think tank, likened the revival of Help to Buy to "throwing petrol on to a bonfire".
Sam Bowman, its executive director, said: "The property market is totally dysfunctional because supply is so tightly constrained by planning rules, and adding more demand without improving the supply of houses is just going to raise house prices and make homes more unaffordable for people who don't qualify for the Help to Buy subsidy.
"Reviving Help to Buy is an astonishingly ill-judged move that may prove economically and politically disastrous for the government."
What is Help to Buy?
The first phase started in April 2013 in England and offered a 20% equity loan from the government to buyers of newly built properties worth up to £600,000.
Buyers need a 5% deposit. When the property is sold, the government reclaims its loan and will make a profit if the property's value has risen.
The Help to Buy cash can only be used for the purchase of newly built homes.
In November 2015 George Osborne, then Chancellor, said the equity loan scheme in England would be extended to 2021 rather than end in December 2016.
Similar schemes in Wales in Scotland have now ended.