Theresa May says Brexit deal will help 'counter' Russia threat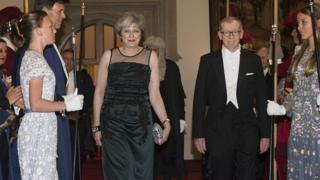 The successful completion of a Brexit trade deal will help counter the threat posed by Russia to European security, Prime Minister Theresa May has said.
She cited the use of disinformation and cyber warfare and Russia's alleged meddling in elections as proof of its aim to "undermine free societies".
The UK did not want "perpetual confrontation" with Russia but would protect its interests, she added.
The UK wants a new security treaty with the EU after it leaves in 2019.
The UK government, which earlier this year reinforced its military presence in the Baltics by sending a further 800 troops to Estonia, has said it remains unconditionally committed to maintaining and defending European security once it has left the European Union.
In a major foreign policy speech at the Lord Mayor's Banquet at Mansion House in London, Mrs May warned the post-war international order was under unprecedented threat from states trying to "destabilise it for their own ends".
She said as the UK left the EU and charted a new course in the world it remained absolutely committed to Nato and securing a Brexit deal which "strengthens our liberal values", adding that a strong economic partnership between the UK and EU would be a bulwark against Russian agitation in Europe.
"The comprehensive new partnership we seek will underpin our shared commitment to open economies and free societies in the face of those who seek to undermine them," she said.
"Chief among those today is Russia."
'Simple message'
Delivering what she described as a "very simple message" for President Vladimir Putin, she said he must choose a very "different path" from the one that in recent years had seen Moscow annex Crimea, foment conflict in Ukraine and launch cyber attacks on governments and Parliaments across Europe.
Russia could be a valuable partner of the West but only if it "plays by the rules", she argued.
"Russia has repeatedly violated the national airspace of several European countries and mounted a sustained campaign of cyber espionage and disruption. This has included meddling in elections and hacking the Danish Ministry of Defence and the Bundestag among many others."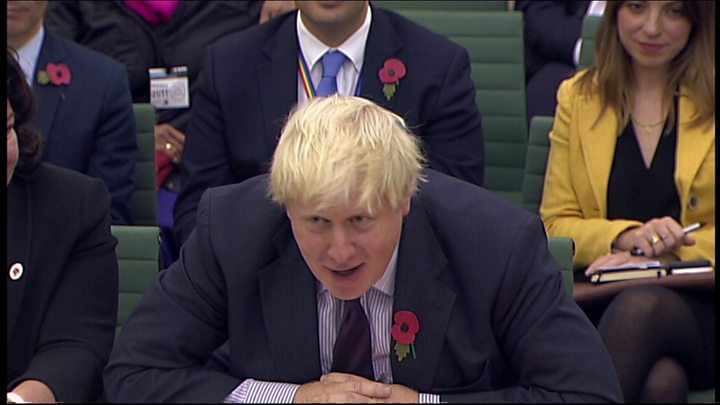 "We know what you are doing and you will not succeed. Because you underestimate the resilience of our democracies, the enduring attraction of free and open societies and the commitment of Western nations to the alliances that bind us."
Boris Johnson, who will make his first trip to Russia as foreign secretary later this year, has said the UK's policy to Russia must be one of "beware but engage" following a decade of strained relations.
He told MPs earlier this month that he had not seen any evidence of Russia trying to interfere in British elections or the 2016 Brexit vote, in which Moscow has insisted it remained neutral.
"We will take the necessary action to counter Russian activity," Mrs May added.
"But this is not where we want to be and not the relationship with Russia we want.
"We do not want to return to the Cold War or to be in a state of perpetual confrontation.
"As a permanent member of the UN Security Council, Russia has the reach and the responsibility to play a vital role in promoting international stability.
"Russia can, and I hope one day will, choose this different path. But for as long as Russia does not, we will act together to protect our interests and the international order on which they depend."
In her speech, she also said the authorities in Myanmar must take "full responsibility" for what "looked like ethnic cleansing" of the Rohingya people in Rakhine province.
Responding to Mrs May's speech, former Labour cabinet minister Ben Bradshaw – who has been raising the issue of Russian interference in UK elections for nearly a year – tweeted: "Asking why May suddenly acknowledging Russian interference now having stonewalled for months."