Tommy Robinson jailed for contempt of court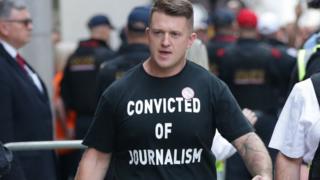 Tommy Robinson has been jailed for nine months over contempt of court.
The ex-English Defence League leader was found guilty last week of interfering with the trial of a sexual grooming gang at Leeds Crown Court in May 2018.
Two Old Bailey judges said his Facebook Live video of defendants in the trial had encouraged "vigilante action".
Robinson, whose real name is Stephen Yaxley-Lennon, called the sentence an "absolute joke".
In his Telegram account, Robinson said: "Sentenced to prison for journalism. Time for protests to start."
Outside the London court, Robinson's supporters booed as news of his sentence reached them.
The crowd marched towards the Old Bailey chanting "we want Tommy out" before some began pelting police with bottles and cans.
Reporting restrictions had been put in place postponing the publication of any details of the 2018 case at Leeds Crown Court until the end of a series of linked trials involving 29 defendants.
Robinson broadcast footage from outside the court on 25 May 2018, while the jury in the second trial of the series was considering its verdict.
The video lasted an hour-and-a-half and was viewed online 250,000 times, after being live-streamed on Facebook.
He was originally jailed for 13 months on the day of the broadcast, but was released two months into his sentence after winning an appeal.
The case was then referred back to Attorney General Geoffrey Cox, who announced in March this year that it was in the public interest to bring fresh proceedings.
At the Old Bailey on Thursday, Dame Victoria Sharp told Robinson that the time he previously spent behind bars for the contempt would be taken into account, reducing his sentence to 19 weeks – of which he will serve half before being released.