Tory leadership: Johnson and Hunt set for TV debate clash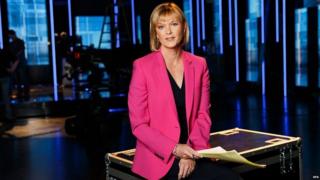 Conservative leadership rivals Boris Johnson and Jeremy Hunt will debate head-to-head later for the first time in front of a live TV audience shortly.
Party members are voting on who should succeed Theresa May, with the winner and next PM to be revealed on 23 July.
The hour-long debate is being broadcast on ITV from 20:00 BST.
Meanwhile, a gap has opened up between the pair over their response to the row over leaked emails from the UK's ambassador to the US.
Unlike his rival, Mr Hunt chose to strongly criticise President Donald Trump's comments on the matter.
Mr Hunt and Mr Johnson have been taking part in hustings across the UK, but this is the first time they have shared a stage since they were confirmed as the final two candidates.
They will face questions from members of the public, including Tory activists, on Brexit and other issues.
Ahead of the debate, Mr Johnson told the BBC there was a chance to "do things differently" and "break away from the failed, old, can-kicking approach".
"Now's the time to really get a grip on this, stop being so defeatist on our approach to the EU negotiations, and maybe be a lot more positive about our country and what it can do."
Asked whether Mr Trump was right to attack Mrs May and the way talks with the EU have been handled, Mr Johnson declined to criticise the president, instead replying: "Myself, I have said some pretty critical things about the Brexit negotiations so far and that's one of the reasons I'm standing."
However, Jeremy Hunt later described the president's comments as "disrespectful and wrong to our prime minister and my country".
The 160,000 or so Conservative members eligible to take part have already begun voting by post, after ballot papers started arriving at people's homes last week.
It will be the first time a sitting prime minister has been chosen by party members.
Mr Hunt had been pressing for the TV debate to take place earlier, warning that many people will have made up their minds before seeing the two men cross-questioned on live TV – but Mr Johnson has resisted calls to take part in other head-to-head encounters.
Apart from Brexit there's been precious little talk so far in this contest about how Britain will run its affairs with the rest of the world. I think that will all change tonight given the enormous controversy over these leaked emails.
It's Jeremy Hunt, normally seen as the more cautious of the two men, who's speaking much more plainly and directly to Donald Trump on the matter, while Boris Johnson has said only that he's not embarrassed about being close to the White House.
It'll be fascinating to see whether or not Mr Johnson is willing to use stiffer language tonight, to follow his rival in rebuking the president.
More broadly, this is all a reminder of how tricky and sensitive the crucial relationship with the US is, and of the challenge that whoever enters No 10 faces in dealing with a president who seems to love stirring up controversy.
The show, entitled Britain's Next Prime Minister: The ITV Debate, will be hosted by journalist Julie Etchingham in front of a studio audience of 200 people at MediaCityUK in Salford.
After short opening statements, the two men will face questions from ITV viewers submitted in advance and selected by the broadcaster.
Mr Johnson, the former Mayor of London, is regarded as the clear frontrunner in the race, having won the support of more than 50% of Tory MPs in the first phase of the contest.
Mr Hunt, the current foreign secretary, has in recent days won the endorsements of former leaders Sir John Major and Lord Hague.
Both men have said they would prefer to leave the EU on 31 October with a negotiated deal but are willing to get out without an agreement if necessary.
They have also made bold spending promises and offers of tax cuts – which have been criticised by financial experts and Chancellor Philip Hammond.
Earlier, Lord Hague – also a former foreign secretary – said one of the reasons he was backing Mr Hunt was because he was not wedded to having to leave the EU on 31 October.
He told Today: "My own opinion… is that it's wrong to set a specific date. Would we really say we have to leave on 31 October if we thought that we could bet better prepared for that on 31 December, or if we had made an agreement with the EU in the course of October and it was necessary to pass the legislation through?
"It is important not to be hooked on a single date, and I think Jeremy Hunt has made that point, but Boris Johnson is hooked on a specific date and that is one of the reasons I haven't voted for him."
Lord Hague said there would only be "a very small landing space" for whoever became the next PM to renegotiate with the EU, but it was important to seize that, rather than pursue a no-deal Brexit against the views of business and Parliament.
He added: "For a Conservative government to go ahead with a no-deal Brexit in defiance of the pleas of business and farming organisations, and increasing the risk to the union of the United Kingdom, and defying any attempts to have a vote in Parliament, would be an extraordinary combination of things to do."