UKIP Wales members elect Gareth Bennett as assembly leader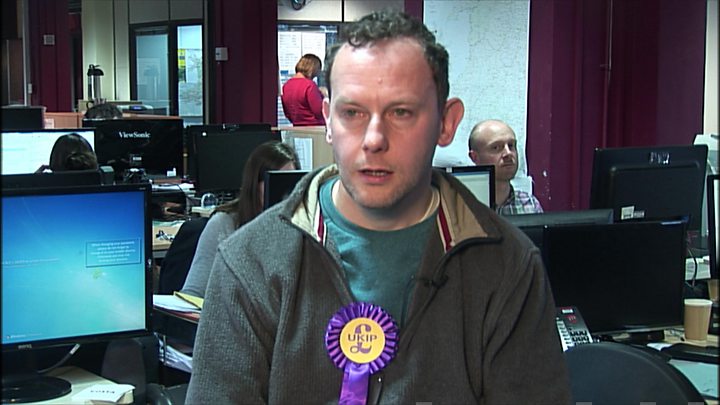 A controversial UKIP member of the Welsh Assembly has won a three-way battle to lead the party in the Senedd.
Gareth Bennett has blamed immigrants for rubbish in Cardiff, and claimed transgender people undermined society by their "deviation from the norm".
He becomes the fourth leader of UKIP in Wales since the 2016 assembly election.
Runner-up Neil Hamilton said he could "happily" work with Mr Bennett, but outgoing leader Caroline Jones said she had "a lot of thinking to do".
UKIP leader Gerard Batten said he now expected his Welsh Assembly members to "work together for UKIP's cause and get on with the job."
The party ordered the ballot of nearly 900 members in Wales to settle a row sparked when Ms Jones ousted former Tory MP Mr Hamilton as group leader in May.
Mr Bennett, AM for South Wales Central, beat Mr Hamilton by 269 to 193 votes in the second round of counting.
Ms Jones – leader for just six weeks – was eliminated in the first round with 130 votes.
The result was announced by party chairman Tony McIntyre at UKIP headquarters in Newton Abbot, Devon, shortly after the votes were counted there on Friday.
Mr Batten said: "I wish to extend my congratulations to Gareth Bennett.
"I now expect all elected members in Wales to work together for UKIP's cause and to get on with the job."
Mr Bennett – who has vowed to campaign to abolish the Welsh assembly – said he was "delighted" to have won the support of the party members in Wales "to take UKIP forward into the next assembly term".
He told BBC Wales he thought his anti-devolution stance was a "major factor" in his victory.
"I don't think party members in Wales have endorsed me because of my brilliant personality, because I have the most charisma or anything like that," he said.
"It's just purely and simply because I had the policies."
Mr Bennett said he was confident he could unify the group, adding that it was his idea to call for a membership ballot to settle the matter of the leadership.
"We had had a very uncertain situation in the group over who the leader was," he said.
"It seemed to be ludicrous that ultimately the leadership of the group in the assembly depended on five people in the room and whatever they decided who their favourite person was that week.
"We thought it was absurd that we shouldn't consult the party members."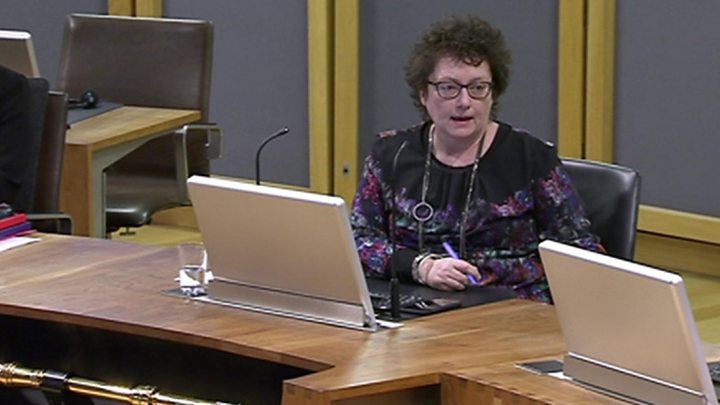 Defeated candidate Caroline Jones congratulated Mr Bennett on his victory, although she said the party's decision to hold an election just weeks after she became leader "doesn't leave a good taste in my mouth".
She said she bore no "malice" to Mr Bennett but added: "I am concerned about my future now. I've got a lot of thinking to do.
"I don't know where a woman's place is in my party.
"I don't know what my future holds."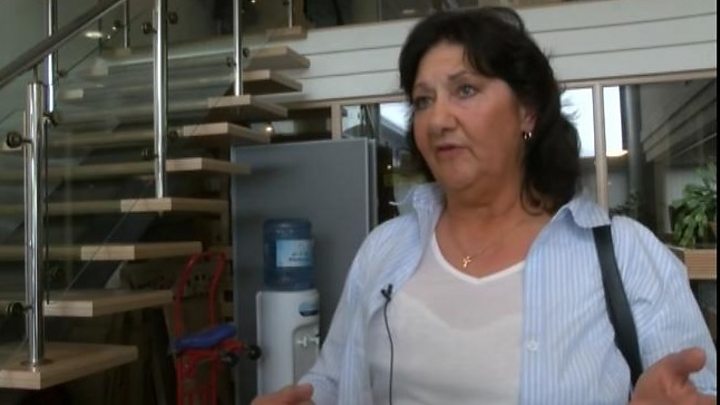 Neil Hamilton "warmly congratulated" Mr Bennett, saying on Twitter: "He is a good friend of mine and I can work happily with him.
"For many UKIP members, the election was a referendum on the Assembly's very existence. Clearly, we must all learn from this."
Reaction from other parties was more scathing.
For Welsh Labour, Health Secretary Vaughan Gething described Mr Bennett as a "deeply offensive man but not amusing in the slightest", while fellow Labour AM Lee Waters said: "Game over for UKIP in the Assembly? I can't see several of their AMs staying [in] the group with Gareth Bennett as their leader."
Plaid Cymru leader Leanne Wood said she had been "consistent in my criticism of UKIP as a party that cannot and will not represent the values of Wales", adding that she thought their demise would be "welcomed".
With 876 UKIP members in Wales eligible to vote, 514 did so, resulting in a turnout of 58.7%.
Gareth Bennett becomes UKIP's fourth leader in Wales since Nathan Gill – appointed by Nigel Farage – led the 2016 assembly election campaign which saw UKIP win its first seven Senedd seats.
The group, which has been rocked by rows, has since shrunk to just five, with the departure of Mr Gill – who sat as an independent before quitting the assembly – and of Mark Reckless, who now sits with the Conservatives.
Analysis by David Deans, BBC Wales political reporter
There are now more UKIP AMs who have been leaders than haven't. Two have had a go – and now we have the third.
Mr Bennett will now have to unify his group – who under Caroline Jones were struggling to even hold meetings – but that could be a tall order.
On Friday, Caroline Jones was unclear about whether she would stick by the team of five. She is clearly upset about how the whole election came about.
The new leader and the former leader have clashed in the past.
Ms Jones has publicly criticised Mr Bennett over a video where he made derogatory comments about a Labour AM. Mr Bennett also recently accused Ms Jones of undermining him in a row about who should do the job as UKIP's assembly commissioner.
Can bygones be bygones?