UK's Hurricane Irma response was not late – Fallon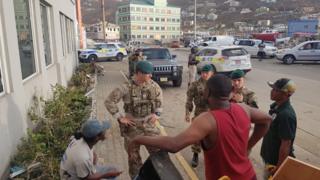 Defence Secretary Michael Fallon has insisted the UK was "not late" in its response to help British overseas territories hit by Hurricane Irma.
Speaking on the BBC's Andrew Marr show, he said the government's response had been "as good as anybody else's".
Two senior MPs and residents of the Caribbean islands have criticised the response after the storm struck.
Some 500 UK troops have been sent to Anguilla, Turks and Caicos, and British Virgin Islands (BVI).
Asked about reports of looting in the region, Sir Michael said there had been a "security issue" in the BVI.
He added the UK was sending in armed troops backed up by additional police from Britain to help local authorities "ensure law and order is maintained".
Currently there are 120 UK troops in the BVI, where five people have died, Sir Michael told the programme.
He dismissed comments from Conservative MP Tom Tugendhat and Tory peer Lord Naseby who have said the response was "too slow" and slower than France and Holland.
'Invisible response'
Sir Michael said: "We weren't late. We pre-positioned a ship in the Caribbean for the hurricane season, it wasn't by chance that Mounts Bay, a huge 16,000-tonne aid ship, with marines with a helicopter with pallets of aid was already in the Caribbean."
British overseas territories are self-governing but rely on the UK for protection from natural disasters.
Charlotte Grayson whose father and siblings live on Tortola, in the BVI, said the government response was "almost invisible".
"Looting has been rife and he has struggled to obtain more basic supplies for my family.
"My dad hasn't seen a police officer since Irma hit, he complained that nobody was driving around to give residents any information and their only source had been USVI [US Virgin Islands] radio," she told the BBC.
---
What has happened in British territories?
Anguilla: Hit by the full blast of the hurricane on Wednesday. At least one death reported.
British Virgin Islands: At least five people have died. Expected to require extensive humanitarian assistance.
Montserrat: "Swiped" by Irma but suffered less serious damage.
Turks and Caicos: Battered by the hurricane on Thursday night, with roofs ripped off, streets flooded, utility poles snapped and a widespread black-out on the main island of Grand Turk.
---
The French have military garrisons in their Caribbean overseas territories so already have troops in position, the defence secretary added.
"Our response has been as good as anybody else's and indeed I can tell you the French have asked now for our assistance in helping to lift troops and material to some of their islands."
On Thursday, Sir Michael said the government was "stepping up" its relief effort after being told which airfields were clear to use.
The UK is now sending up to three extra aid flights a day to the Caribbean to help communities affected by Hurricane Irma.
---
At the scene: 'Asleep at sundown, awake at daybreak'
By Laura Bicker and Paul Blake, on Tortola, BVI
At the mansion of the BVI's governor, British soldiers are working to establish satellite communications with the outside world, while Brigadier John Ridge was liaising with Governor Gus Jaspert about what operations needed to be prioritised.
At a local police station, we are told, British army commandos are working with officers to try and re-establish control after reports of looting. For his part, the governor has imposed an overnight curfew to keep criminality at bay.
A drive back to the airport revealed further damage. With trees uprooted, another fear is that rain could result in land erosion.
Back inside the airport arrivals lounge, UK soldiers spent Saturday night sleeping on the luggage carousel and on benches.
Asleep just after sundown and awake at daybreak on Sunday, they will need the rest for the work ahead of them.
That task could become taller in the coming days as food, petrol and cash shortages may lead to desperation.
---
Sharmaine Harford, whose mother is stuck on the French-Dutch island of St Martin, told BBC Radio 5 live that Britons had not been given any instructions.
"She has no access to the outside world, given that there are looters everywhere, there doesn't seem to be any authority or police presence anywhere around where she's staying.
"There's been no guidance for British citizens – they've had no contact with anyone whatsoever.
"The messages I've been receiving from her have been 'can you find out what's going on? Can you see what the plan is for us to leave the island?'"
What the travel companies say
Check with your travel provider and follow the advice of local authorities
British Airways has cancelled all flights to Miami, Orlando, Tampa, and Providenciales in the Turks and Caicos on Sunday
Virgin Atlantic flights to Miami, Orlando, are "restricted" until Monday 11 September
Services to Antigua and Havana, Cuba, are severely disrupted while Havana Airport is closed
Thomas Cook said their customers in Cuba are "under the instruction of their authorities"
Some airlines have rescheduled flights and put on extra services