Wind back in Europe's sails, Juncker tells EU parliament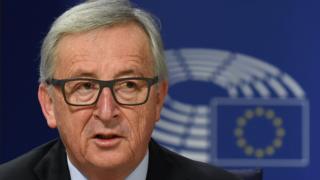 The "wind is back in Europe's sails", European Commission President Jean-Claude Juncker has said in his annual state of the union address.
He told the European Parliament there was a "window of opportunity" to build a stronger, more united union – but it "wouldn't stay open forever".
Mr Juncker said the EU had made economic strides in the year since his last such address.
But he called for the union to seize the momentum and agree new trade deals.
Trade talks should open with Australia and New Zealand, he said, and be completed by late 2019.
During his 90-minute speech, in English, French and German, Mr Juncker focused on the future of the union itself and the challenges it faces:
He praised Europe's progress on migration, saying it protected its external borders in a more efficient manner, and he highlighted Italy's "perseverance and generosity" in helping to manage irregular migration
Work needed to be done opening legal migration routes and ending "scandalous" conditions in Libya, he said
Europe had to pursue a "credible enlargement project to the countries of the western Balkans"
It was high time for Romania and Bulgaria to be brought into the EU's border-free Schengen zone and Croatia should join when it was ready.
He accused Turkey of distancing itself from the EU, and called on the government in Ankara to "let our journalists go" and to stop personal attacks on European leaders.