Elusive nightjar back at RSPB Sandy reserve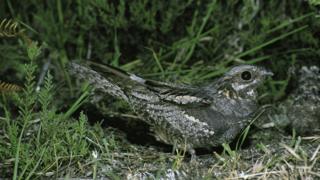 One of Britain's most elusive birds is back breeding at an RSPB reserve for the first time in 45 years.
A single pair of nightjars have nested and raised chicks on an area of restored heathland at the charity's headquarters in Sandy, Bedfordshire.
They were spotted by a birdwatcher on 3 June after he heard the nightjar's distinctive "churring" call.
The reserve's site manager said staff were "over the moon" at the return of the bird.
Nightjars are summer visitors to the UK and spend the winter in sub-Saharan West Africa.
The birds are well-camouflaged and prefer low heathland habitat – and males are known for their "mechanical churring" call that rises and falls as the bird turns its head.
Most recent population estimates put male numbers in the UK at about 4,600 – with females particularly difficult to find.
The RSPB said the loss of natural heathland to commercial development between 1972 and 1992 saw the nightjar population halve nationwide.
It puts the most recent breeding success at the Sandy reserve down to the purchase of 59 hectares (590,000sqm) of conifer plantation in 2003 there, which has been reverted to original heathland to specifically attract the nightjar.
Mating displays
Senior site manager, Peter Bradley, described their return as a "great success story".
"We're over the moon," he said.
"Not only because these amazing birds have returned to the reserve but that they have chosen to nest on a part where we expressly set about recreating the kind of heathland habitat that has historically been lost."
Local birdwatcher Neil Bostock was the first to discover the birds on 3 June after hearing the "churr" before male and female birds were seen engaging in mating displays, signalling their intent to breed.
Wardens will have to wait until they finish nesting before they can confirm chick numbers by counting the empty eggshells and examining the nest.