Whale stranding death toll rises to 58 in Scotland and Ireland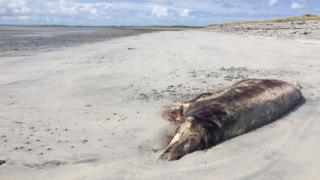 More whales have been found dead on the coasts of Scotland and Ireland following several strandings of the animals last month.
Eleven whales were found dead over the course of one week in August.
Whale and Dolphin Conservation (WDC) said the toll had now risen to 58.
In Scotland, 20 whales were found beached in the Western Isles, 16 in Argyll and Bute and two in the Highlands. Twenty have stranded in Ireland.
One of the whales was found dead in Northern Ireland, and the rest in the Republic of Ireland.
Many of the animals that died were Cuvier's and True's beaked whales, which are a deep-diving species.
Some have been found dead along the shores of North Uist and Harris in the Western Isles.
Last month, WDC asked the UK's Department for Environment, Food and Rural Affairs and the Scottish government to investigate the strandings.
The Cetacean Strandings Investigation Programme and Inverness-based Scottish Marine Animal Strandings Scheme are investigating,