Lockhart in Foster Twitter photo bullying complaint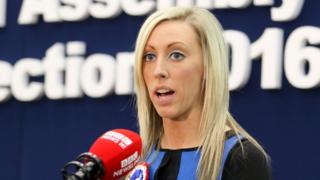 A DUP MLA has called for more controls on social media after receiving "very personal" abuse on Twitter.
Carla Lockhart said the comments were aimed at her and party leader Arlene Foster.
Ms Lockhart was at a DUP event on Friday where she had a photo taken with Mrs Foster.
The Upper Bann MLA said female politicians in other parties have also been targeted and the abuse needs to stop.
She said: "We need to get our police and our social media outlets working together to tackle this and to bring people to task for what they're doing," she said.
'Very personal'
"This is bullying. It's harassment of women in political life.
"I am more than open to people debating about political beliefs and policy but these were very personal. We all have features that we would maybe change.
"We all look at ourselves in the mirror in the morning and maybe think if we looked slightly different, it would be wonderful, but it doesn't give anyone the right to pass comment on them."
The tweet which prompted the online abuse at the weekend was a picture posted of Ms Lockhart and Arlene Foster at a DUP event in Fermanagh on Friday night.
'Positive comments'
"At the dinner, Arlene posted a picture of the two of us," said Ms Lockhart.
"There were a lot of very positive responses to the tweet but there were also a number of very abusive messages."
She added "Platforms like Twitter have to do more to tackle the problem, there's no doubt of that.
"There's much more can be done to verify accounts."
Sinn Féin's deputy leader Michelle O'Neill tweeted her support for Ms Lockhart.
She said: "Abusive, nasty or disrespectful comments towards anyone on social media are totally unacceptable.
"No one should have to tolerate it."
Ms Lockhart received support too from the Ulster Unionist Party leader Robin Swann who tweeted that anonymous accounts were encouraging "trolls".