Apprentice Boys recognise 'upset' over band uniform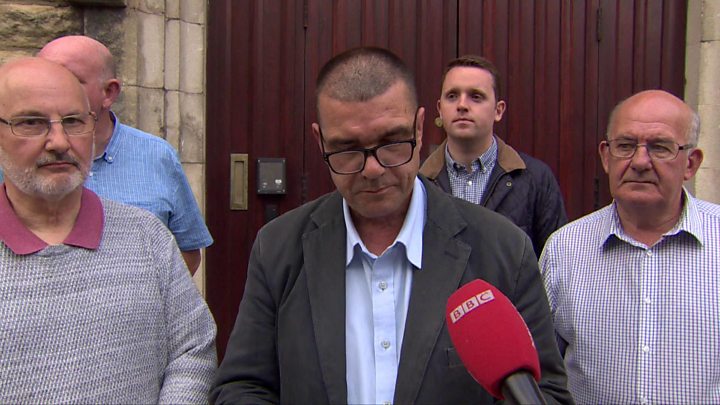 The Apprentice Boys of Derry have said they recognise the upset caused to nationalists by a Parachute Regiment emblem worn by a visiting flute band during a parade in the city.
They said they had "no prior knowledge" of the uniform worn by Clyde Valley Flute Band during Saturday's march.
The Larne group wore a Parachute Regiment insignia on their shirts as they paraded, bearing the letter 'F'.
Police escorted them during the parade, and later stopped the band's bus.
The Apprentice Boys governor said on Tuesday night that the Apprentice Boys were unaware of the incident until after the parade.
"We had no prior knowledge of the band's uniform, or this incident, until the conclusion of the main parade on Bond Street," he said.
"We recognise this may have caused upset to many in the nationalist community.
SDLP leader Colum Eastwood described the Apprentice Boys statement as a "positive step that will contribute to healing in the city".
"It is welcome and demonstrates the kind of leadership that Derry and the north needs right now," he added.
'Heavy handed'
Mr Stenhouse added that the main focus of the parade is to commemorate the 1689 Siege of Derry.
He said it should in no way be used as a means to "heighten tensions in a shared city".
The governnor again rejected claims that an agreement about symbols supporting the Parachute Regiment had been put in place before the march.
"This agreement never took place," he said.
"We would never place our marshals under such difficult circumstances."
Mr Stenhouse said the police were "heavy handed" in how they dealt with the band and that he would discuss the matter further with local police commanders.
"A lot of hard work has been contributed to ensuring peaceful parades over many years," he said.
"We wish to continue with this constructive dialogue to ensure that good will and understanding prevails.
"We also wish to ensure our city continues to lead in promoting reconciliation and is a model of respect to all communities."
'Perception of no confidence'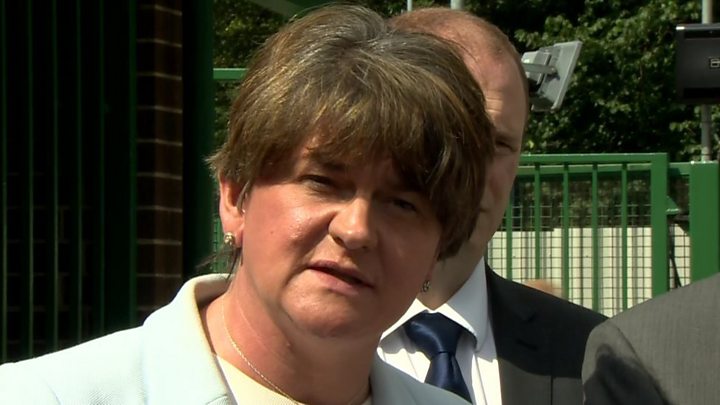 Earlier on Tuesday, Democratic Unionist Party (DUP) leader Arlene Foster said that a lot of loyalists are concerned by the police approach.
"It is important that everybody in the community in Northern Ireland has support for the police service. That's a fundamental of our society," she said.
"Therefore it concerns us greatly if there's a perception building that there isn't that confidence in policing. It's something that we are very concerned about."
The DUP and UUP met PSNI officials separately to discuss Saturday's policing operation.
UUP leader Robin Swann, who led his party's delegation, said "intervention could've been handled in a completely different way".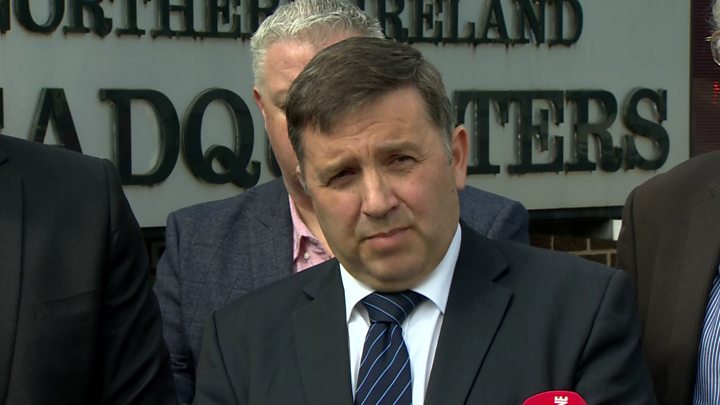 "The deployment of the TSG (Tactical Support Group), in my opinion, was uncalled for, unnecessary, and obviously too early because they should have given the elected representatives and stewards from the Apprentice Boys of Derry an opportunity to see what resolution could have come about before the TSG was deployed," he added.
Deputy Chief Constable Stephen Martin said he "listened carefully to all the strong concerns that have been raised" and that there will be a full debrief of the force's actions.
'No agreement'
Thirteen people were shot dead when members of the Army's Parachute Regiment opened fire on civil rights demonstrators on Bloody Sunday in Derry in 1972.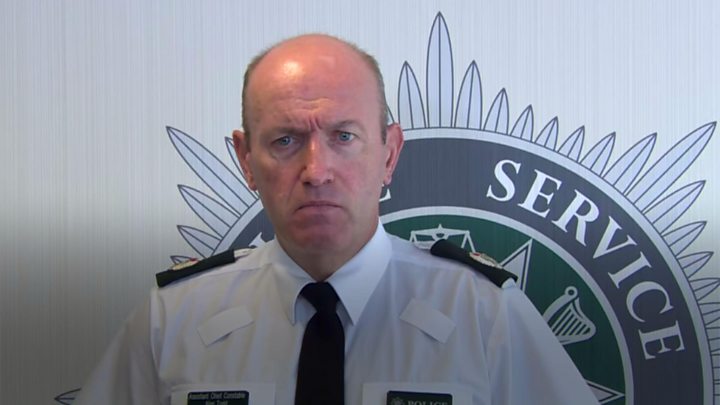 An ex-paratrooper, known as Soldier F, is facing prosecution for two murders.
Relatives of the victims of Bloody Sunday said the band's display caused great hurt.
"People are very angry about what happened," said John Kelly, whose brother, Michael, was killed on Bloody Sunday.
"The way we look at it, and I'm talking about the families, and the people of Derry, we found it very, very provocative."
Police said an agreement had been put in place before the march, and officers flanked the band during the parade.
But DUP MP Gregory Campbell shared Mr Stenhouse's opinion that there was no such agreement.
Sinn Féin MP Elisha McCallion said the insignia display by the band had caused "deep anger in the city".
"Ahead of Saturday's parade, assurances were given that there would be no Parachute Regiment or Soldier F imagery involved but this agreement was broken," she said.
"Subsequent Apprentice Boys denials of such an agreement do not stand up to scrutiny, and are in direct contravention of the accounts from the PSNI and the Bogside Residents Group."
'Proportionate, responsible and constructive'
Responding to criticism of how police handled the incident, Assistant Chief Constable Alan Todd it was "proportionate, responsible and constructive".
The Parades Commission said it had received a number of complaints regarding the Apprentice Boys parade.
Clyde Valley Flute Band said that the symbol on their shirts was an expression of "a legitimately held view which they are entitled to hold".
"The officers of the band wish to correct any false impression which may be held regarding the band's uniform being deliberately provocative and specifically designed for the parade in Londonderry," the band said in a statement.
Mr Stenhouse earlier said he would be willing to meet the Bloody Sunday families and other community representatives.
"I'm more than willing to meet them if that's something that they wish to do," he said.
"What the Apprentice Boys have achieved over the last 20 years is taking things forward by talking to different communities.
"That's why we do have very successful parades now in the Maiden City. We'll discuss with other community representatives and if there's some hard, straight talking to be done, then that's something that we'll have to do."
Meanwhile, a number of petrol bombs were thrown towards police during disorder in Londonderry on Monday night.
It was the third consecutive night police have been attacked in the city.