Billy Monger: Amputee teen racer walks Brands Hatch circuit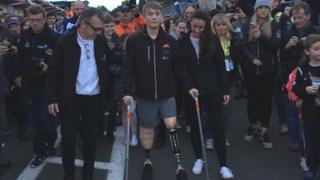 A teenage racing driver who lost the lower part of both his legs in a crash has walked part of the Brands Hatch circuit for charity.
Billy Monger, from Charlwood, Surrey, hit the back of a stationary car at Donington Park on 16 April – three weeks before his 18th birthday.
The Formula 4 driver had to have both legs amputated and spent nearly a month in hospital recuperating.
He walked 200m of the track before driving a buggy to complete the feat.
About 1,000 people turned out at the track to support and cheer on the teenager – who only got his new prosthetic limbs on Thursday.
Speaking just before the walk, which is in aid of the air ambulance, he said: "I'll just be making sure I don't make any mistakes and don't fall over.
"Obviously there will be a lot of overriding emotion that will go with it, but I'll try and do my best, that's all I can do really."
British Touring Car medical director Dr Paul Trafford recalled the accident in Leicestershire.
"We all felt quite helpless because we were struggling to release Billy. He was talking to us, he knew he'd injured himself badly, and he looked so young," he said.
"It had a big effect on a lot of the people involved. Quite amazingly Billy seems to be the one that's bounced back quicker than anybody else who was there."
In July, just 11 weeks after the crash, Billy returned to the cockpit of a specially adapted racing car and is hoping to be back racing fully by spring 2018.