Boy, 17, dies in south London street shooting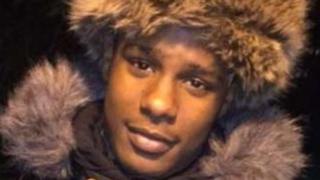 A 17-year-old boy has died after he was found with a gunshot wound in south London, police have said.
Rhyhiem Ainsworth Barton was discovered in Warham Street, Southwark, after reports of a shooting in nearby Cooks Road, at about 18:05 BST on Saturday.
The teenager, described as a "good boy" by his mother, was given first aid by doctors and ambulance crews but was pronounced dead at 18:56.
No arrests have been made and the Met said inquiries are continuing.
A post-mortem examination will be held in due course.
Rhyhiem's mother Pretana Morgan told reporters on the estate: "I couldn't have asked for a better son.
"My son was a very handsome boy. He's got so much potential."
Ms Morgan said Rhyhiem was "trying to make a difference" by learning to work with children, adding: "My son's a good boy."
Police tape surrounded much of the area around Aberfeldy House and officers remained at the scene on Sunday morning.
The Met is appealing for witnesses.
More than 60 people have been killed in the capital this year – about half were the result of stabbings.
London mayor Sadiq Khan said his thoughts go out to the "loved ones of the teenager who was tragically killed".
In a separate incident, a cyclist was shot at in Blenheim Grove in Peckham but the gunman missed hitting shop shutters at about 23:20 on Friday. Three men then made off on two mopeds.