Brexit deal: Tory rebel warns government could collapse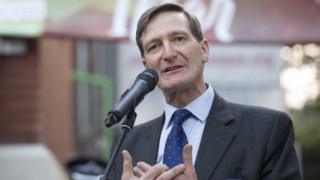 Tory rebels could collapse the government if they vote against a Brexit deal negotiated with the EU, a leading rebel has admitted.
Dominic Grieve said he wakes up "in a cold sweat" thinking about what could happen if a final deal is rejected.
But he suggested rebels would not back down in a current row with ministers about how much of a say MPs should get.
The EU Withdrawal Bill returns to the Lords and Commons this week, with further rebellions expected.
Last week the government avoided a defeat on the bill over the issue of Parliament's role, should a final Brexit deal be rejected by MPs, or if no deal is reached, by agreeing to hold further talks with rebels.
Former Attorney General Mr Grieve told BBC One's Sunday Politics that he thought they had agreed MPs could have an "advisory" vote, that would not order the government to do anything, but would help people to "keep calm" during what would be a "critical situation".
But after two days of talks, Mr Grieve said a government amendment drawn up to avert a rebellion was changed at the last minute and was now "valueless". He implied rebels would vote against it this week.
---
What the government's amendment says
The government's amendment to the EU (Withdrawal) Bill sets out what must happen in the event of three scenarios: If MPs vote down the UK-EU Brexit deal, if Theresa May announces before 21 January 2019 that no deal has been reached, or if 21st January passes with no deal being struck.
Under these circumstances, a minister must make a statement in Parliament setting out their next steps and give MPs an opportunity to vote.
However, the vote would be on "a motion in neutral terms", merely stating that the House has considered the statement.
Rebels had originally wanted the amendment to say that the government must seek the approval of Parliament for its course of action – and that ministers must be directed by MPs and peers.
---
When it was put to him that voting against any Brexit deal at "the 11th hour" of negotiations could collapse the government, he replied: "We could collapse the government and I can assure you, I wake up at 2am in a cold sweat thinking about the problems that we have put on our shoulders."
But for the government, Solicitor General Robert Buckland said ministers would support the amendment the government had put forward for now, adding: "Of course we have Tuesday to consider matters ahead of the Wednesday vote."
Earlier the prime minister defended her handling of the row.
She told BBC One's Andrew Marr Show she had met Tory rebels and "undertook to consider their concerns".
She admitted there had been "a debate" about what a "meaningful" vote for Parliament meant: "I've listened carefully to the concerns, I've put an amendment down which I think balances this issue of the role of Parliament together with the need for us to ensure we don't overturn the decision of the British people."
But she said Parliament "cannot tie the hands of government in negotiations".
"As we are sitting there negotiating on the details of our future relationship or our withdrawal agreement, we can't have a situation where every time we have to take a decision we have to go back and have a lengthy debate," she said.
The main purposes of the EU Withdrawal Bill are to end the supremacy of EU law in the UK, and transfer existing EU law into UK law so the same rules and regulations apply on the day after Brexit.
But as it passes through Parliament, MPs and peers have been trying to change it, in some cases adding bits on that would change the government's Brexit strategy.
The government says the whole row is about the "hypothetical" scenario where no deal is reached – or one is rejected by Parliament – and they are "confident we will agree a good deal with the EU which Parliament will support".