Brexit Secretary Dominic Raab to meet NI politicians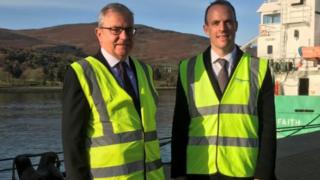 Brexit Secretary Dominic Raab is visiting Northern Ireland for meetings with politicians and business leaders.
The Northern Ireland "backstop" remains the major unresolved issue in current withdrawal negotiations.
Mr Raab travelled to Warrenpoint Port in County Down where he met business representatives.
Sinn Féin MP for South Down, Chris Hazzard, protested that Mr Raab had refused to meet local political representatives.
Speaking outside Warrenpoint Port, Mr Hazzard said it was an example of "the cynicism and disrespect" being shown to the electorate of South Down and that Mr Raab had come in "like a thief in the night" without listening to people and their concerns about Brexit.
Colm Shannon of Newry Chamber of Commerce described Mr Raab's visIt to Warrenpoint as "a welcome opportunity for local businesses to highlight our concerns about the border and future trading relationships with the EU".
"It was a useful visit. He listened to the concerns of local businesses, particularly those that trade north-south," he said.
He said an open border and freedom to trade east and west were essential to the continued success of the port.
The backstop is an arrangement which will apply if the Irish border cannot be kept as frictionless as it is now in the context of a wider deal.
The EU and UK have agreed the need for a backstop but not how it should operate.
The EU has proposed a backstop that would mean Northern Ireland staying in the EU customs union, large parts of the single market and the EU VAT system.
The UK government has rejected it as a threat to the integrity of the UK and has suggested a backstop that would see the UK as a whole remaining aligned with the EU customs union for a limited period.
'Intensify'
A letter from Mr Raab, published earlier this week, suggested he expects a deal on the UK's exit from the EU to be agreed within three weeks.
The Brexit secretary told a committee of MPs he was happy to appear before them to give evidence "when a deal is finalised" and "currently expected 21 November to be suitable".
However, Mr Raab's own department later clarified that there was "no set date for the negotiations to conclude".
November 21 was the date offered by the committee's chairman, it added.
Meanwhile, Ireland's foreign minister has said it is up to the UK to "intensify" talks.
Simon Coveney, who met Mr Raab on Tuesday evening, said time was short and while an overall deal was possible within three weeks, it had to take shape soon.
Mr Coveney, and Irish Justice Minister Charlie Flanagan, will host a meeting in Dublin later on Friday for the latest session of the British-Irish Intergovernmental Conference (BIIGC).
It will be the second time in about three months the conference will be held, after not being convened for more than a decade.
The British government will be represented by Northern Ireland Secretary Karen Bradley and Cabinet Office Minister David Lidington.