Chef Angela Hartnett says Britain is not a 'foodie nation'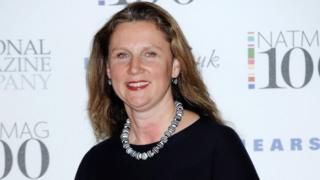 Britain is still not a "foodie nation", Michelin-starred chef Angela Hartnett has said.
She told BBC Radio 4's Desert Island Discs that, while there is talk of the country now having a "food culture, I genuinely don't think we do".
Hartnett said: "We've lost home economics in a lot of schools. People aren't taught to shop."
She added that food culture in Britain "is about money".
Hartnett, who learnt her skills making bread and pasta with her Italian grandmother, trained under Gordon Ramsay and opened her own London restaurant, Murano, in 2008.
'Unhealthy nation'
She told Desert Island Discs it would have been unimaginable at the start of her career to think that people would one day be "fighting" to become part of the UK's restaurant industry.
But she said at home Britons were different from the Italians or the Spanish, "where everyone… will go and buy a chicken and everyone can afford that chicken".
She said: "Our food culture is about money. People who have money can afford good food in this country.
"When you haven't got any money [and] you're living on a low income, to patronise and sit there and say, 'You've got to have an organic chicken' is wrong.
"People don't have the time to shop and the time to cook. Everyone says we're a more unhealthy nation than ever and yet we're not doing anything about it."
Hartnett recalled her grandmother never threw food away, adding people were now a "bit lazy" about that.
The 49-year-old also told presenter Kirsty Young that by "working and working and working" in pursuit of her career as a chef, TV presenter and cookery writer, she had left it too late to have children.
"That's one regret unfortunately, but other than that I'm very happy with what's gone on," she said.
Hartnett also said the one person she cannot cook alongside is her soon-to-be husband, Neil Borthwick, a chef she met when she headed the Gordon Ramsay-owned restaurant at The Connaught hotel.
She said: "He's a brilliant cook and he's got a great palette but he's messy and it drives me insane at home."
Desert Island Discs is on BBC Radio 4 at 11.15 GMT on Sunday, or listen later on iPlayer