Croydon tram crash could have been prevented, says widow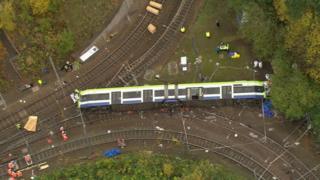 The widow of a Croydon tram crash victim says she is angry a similar speeding incident days before was not acted upon quickly enough.
Seven people died when the tram derailed at Sandilands last November.
Marilyn Logan, whose husband Phil died in the crash, says it may have been prevented had action been taken after a similar incident on 31 October.
The Rail Accident Investigation Branch's (RAIB) crash report is to be published on Thursday.
Mrs Logan, who has seen a copy, believes if there hadn't been a "culture of fear" among staff the disaster could have been prevented.
'Urgent attention'
On 31 October a passenger raised concerns about a tram which went "too fast" round a bend near Sandilands.
"From what I've read, the driver went round so fast that when the tram got to Sandilands the lady got off the tram because she really thought it was going over," Mrs Logan told the BBC.
"Now, had that incident been investigated, the one a week later might never have happened."
An interim report by the RAIB found the tram was travelling at three-and-a-half times the speed limit when it came off the tracks. on 9 November, 2016.
Mrs Logan said it was "crazy" there were plenty of warning signs of previous speeding incidents – none of which she believes were being reported properly.
A TfL spokesperson said: "Prior to November 2016, First Group, as operators of the tram network, automatically received and managed all customer complaints in the first instance.
"We have since enhanced the customer complaints process so that all reports are now received in the first instance by a dedicated TfL team. They are then categorised, with those that are safety related being prioritised for urgent attention and action where required.
"We welcome the report from the Rail Accident Investigation Branch and will continue to work alongside them, the Office of Rail and Road and First Group, to ensure all of the recommendations outlined are met."