Custody for 'Columbine' plot boys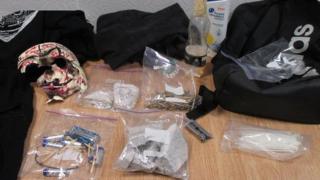 Two teenage boys who plotted a Columbine-style shooting at a school have been detained.
The boys, both 15, planned to shoot and kill pupils and teachers at the school in Northallerton, North Yorkshire.
One of the boys was handed a 12-year custodial sentence while his co-defendant was given 10 years.
The teenagers, who were 14 at the time, were found guilty of conspiracy to murder following a trial at Leeds Crown Court in May.
Jurors heard they were motivated by their "worship" of Eric Harris and Dylan Klebold, who killed 13 people and themselves at Colorado's Columbine High School in 1999.
Following their arrests in October 2017, both boys tried to claim the Yorkshire plot was nothing more than a fantasy.
But sentencing the pair, Judge Mrs Justice Cheema-Grubb told them their plan "was not wishful thinking or fantasy, it was a real plot".
She said it was a "firm plan with specific targets in mind" using "indiscriminate explosives".
The judge concluded the boys intended to cause "terror on the scale of the school shootings that have been seen in America".
During the trial, prosecutors said the older boy, who was described as the ring-leader, was motivated by a "far right-wing" and "twisted ideology" which he had discussed in a diary.
The pair downloaded bomb-making manuals, researched weapons online and had drawn up a "hit-list" of targets that included students who had bullied and wronged them, as well as teachers.