Hammond to announce 'more money' for Northern Powerhouse rail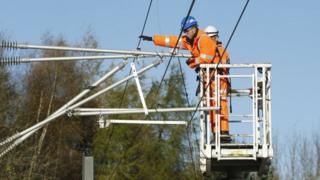 Chancellor Philip Hammond is to announce an extra £300m to improve rail links in northern England, in a speech to the Conservative party conference.
Plans to electrify the whole Trans-Pennine route had previously been axed.
But the new money will be used to ensure HS2 will link to faster trains between Liverpool and Manchester, Sheffield, Leeds and York – so-called Northern Powerhouse rail.
Mr Hammond will also allocate £100m for 33 road schemes, from existing budgets.
The Northern Powerhouse rail scheme is being drawn up by local authorities and business leaders to create connections between HS2 and cities not directly on its route. It is likely to rely on "bi-mode" trains that can run on diesel and electric power.
Mr Hammond will say cities in the East Midlands, such as Leicester, would also benefit from the new cash.
"This investment will go towards ensuring HS2 infrastructure can link up with future Northern Powerhouse and Midlands rail projects – helping the towns and cities of the North reach their full potential."
The new road projects include 10 in north-east England, 13 in north-west England and 10 in Yorkshire and Humber.
Analysis: Up steps Hammond
By Chris Mason, BBC political correspondent in Manchester
Philip Hammond is not one of your hard hat, fluorescent jacket, photo op kind of politicians.
But he will embrace his predecessor's pet project, the Northern Powerhouse today, if not George Osborne's love of building site attire.
Alongside the sections of the speech about money for road and rail projects though, look out for his remarks on capitalism.
They are interesting for two reasons.
The first is the Labour leader Jeremy Corbyn's new influence on the political agenda.
His remarks last week about capitalism's "crisis of legitimacy" had already prompted the prime minister to intervene, just a day later, with her defence of the market economy.
And now up steps Philip Hammond with his own take on the same song.
The second is the glimpse it offers into an internal Conservative debate about how to take on Mr Corbyn.
Accept he is at least partially onto something, and tack a little left.
Or stick to a full-throated defence of the free, albeit regulated, market.
The chancellor is also set to use his conference speech to mount a defence of free market economics, which he claims is coming under assault from Labour leader Jeremy Corbyn.
He will say: "Our economy is not broken: it is fundamentally strong.
"And while no-one suggests a market economy is perfect, it is the best system yet designed for making people steadily better off over time and underpinning strong and sustainable public services for everyone.
"As this model comes under renewed assault, we must not be afraid to defend it."
The Conservatives kicked off their week in Manchester by announcing plans to freeze student fees and pledge an extra £10bn for the Help to Buy scheme as part of an effort to win over younger voters.
Mr Hammond will say in his speech: "We are the party of progress. The party that makes a clear commitment to the next generation – that they will be better off than us; and that their children will be better off again than them."
The government is, meanwhile, under pressure to pause the national roll-out of Universal Credit amid mounting concern families forced to wait six weeks for their first payment will be left destitute and homeless.
Work and Pensions Secretary David Gauke is expected to announce new guidance to job centres for giving cash advances to claimants, in his speech to the Tory conference later.
Prime Minister Theresa May said she and Mr Gauke were "looking at" ways to help affected families but they are not expected to halt the rollout, despite pressure from 12 Tory MPs, a former government adviser and Labour.