Hammond's vow to North ahead of meeting with mayors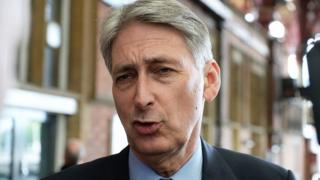 Chancellor Philip Hammond has promised to keep backing the Northern Powerhouse ahead of a meeting with three of the region's leading politicians.
He is to meet Manchester mayor Andy Burnham, Liverpool's Steve Rotheram and Tees Valley mayor Ben Houchen for the first time since their May elections.
Mr Burnham and Mr Rotheram, both former Labour MPs, have warned the north is losing out over transport spending.
But Mr Hammond insists record amounts are being spent on infrastructure.
The government's decision earlier this summer to discontinue or downgrade a number of rail improvement schemes in the north of England, the Midlands and the Wales, while giving the go-ahead in principle for the Crossrail 2 link in south London, was greeted with dismay by political leaders in the North.
They argue that the North has long been the poor relation in terms of its infrastructure, citing the continued use of the 30-year old Pacer train carriages on some routes.
The Local Government Association has also warned that the government's devolution agenda, championed by Mr Hammond's predecessor George Osborne, has stalled in the past year with no announcements on the transfer of major powers since Theresa May became prime minister.
What is the Northern Powerhouse?
But Mr Hammond will insist that the UK's exit from the EU makes it is all the more important that every region of the country has the necessary tools to maximise their economic opportunities.
"Boosting productivity in the North is at the very heart of the government's ambition to build an economy that works for everyone," Mr Hammond said ahead of Monday's visit in Manchester.
"As we prepare to leave the European Union it is even more important that we support the Northern Powerhouse to reach its full potential.
"That's why we are investing record amounts in infrastructure, and working with metro mayors to encourage growth and create opportunities throughout the North."
The chancellor will inspect a new rail hub in Manchester and is expected, on a later visit to Leeds, to say that progress is made on agreeing a housing deal with the city that could be announced in the Autumn budget.
The Greater Manchester, Liverpool City and Tees Valley mayoral positions were among six created earlier this year to lead their respective regions' combined authorities and to take over budgetary powers from Whitehall, including over transport, planning, health and social care.
Separate devolution deals, spanning enterprise and economic growth, have previously been agreed with Leeds City Region, Nottingham, Newcastle and Sheffield City Region among others.
But local council leaders are worried that ministers' attention has shifted elsewhere since the Brexit referendum in June 2016 and English devolution is no longer a priority.
Also attending Monday's meeting will be Conservative Mr Houchen, who caused something of a surprise when he saw off Labour to be elected as mayor for Tees Valley, comprising Teesside, Darlington and Hartlepool.
He has cited the recent agreement to create the South Tees Development Corporation as evidence of successful co-operation between national and local government.