Loose sheep rescued by police officers on M4 motorway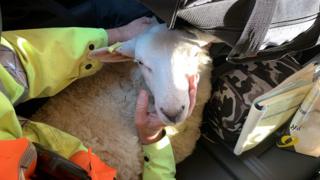 Traffic police in south Wales have joked about becoming "animal whisperers" – after they caught a loose sheep running on the M4 near Cardiff.
The sheep was spotted running loose for 20 minutes on the hard shoulder of the eastbound carriageway between junctions 33 and 32.
Two officers managed to tackle the sheep as she ran towards stationary traffic.
They nicknamed the errant animal 'Dolly' and safely escorted her home.