Man held after three-year-old dropped in river in Bolton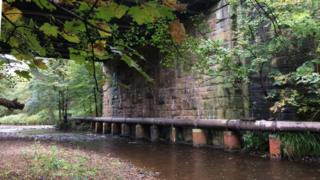 A man has been arrested after dropping a three-year-old from a bridge into a river in an attempted murder-suicide.
Police said they were called to Crompton Way in Bolton at 20:30 BST where a 39-year-old man was threatening to drop the girl into the water.
Despite attempts by specialist negotiators, the man dropped the child from a height of 30ft (9m) before falling in himself.
The girl suffered a broken wrist. The man received minor injuries.
He has been arrested on suspicion of attempted murder.
Supt Paul Savill, from Greater Manchester Police (GMP), said the man would be questioned "at the earliest opportunity".
He added: "Thankfully the little girl will recover from her physical injuries, but the trauma she was put through is heartbreaking. My thoughts are with her and he family."
The force said the suspect would not speak to police negotiators before dropping the child.
An officer, who was already in the river, reached the child shortly after she entered the water, and carried her to safety.
Officers also took the man out of the water after his fall. Both were taken to hospital.
GMP has referred the case to the Independent Police Complaints Commission in accordance with standard procedure.