Nancy Glen fishing boat recovered from Loch Fyne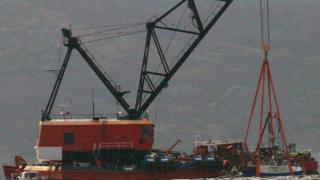 The Nancy Glen fishing boat which sank with the loss of two crew members has been raised from Loch Fyne.
The boat was brought to the surface by a lifting barge three months after it went down near Tarbert.
The bodies of Duncan MacDougall, 46, and Przemek Krawczyk, 38, are believed to be inside the wreck. A third crewman, John Millar, was rescued.
Marine investigators decided not to raise the boat, but the Scottish government agreed to fund the lift.
Police divers had earlier arrived at the site in preparation for an attempt to recover the bodies of the crew members, who lived in Tarbert.
The Marine Accident Investigation Branch (MAIB) initially conducted a seabed survey of the 40ft boat, which was said to be lying at a depth of more than 459ft (140m), but announced it had no plans to raise the wreck.
The Clyde Fishermen's Association raised nearly £300,000 through crowdfunding to finance a salvage operation so that the bodies could be retrieved.
The Scottish government then stepped in to fund the operation, reported to cost about £1m. The money previously raised will be used to support the families of the men who died.
A Police Scotland spokeswoman said: "We can confirm that the boat has been raised and that efforts are ongoing to make it safe for police officers seeking to recover any bodies or remains which are on board."