Newspaper headlines: Johnson backs off and Trump speech stuns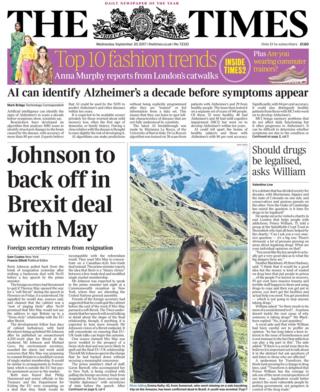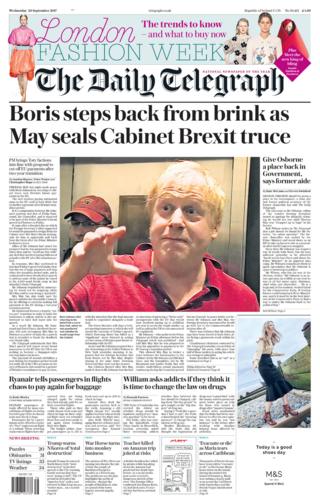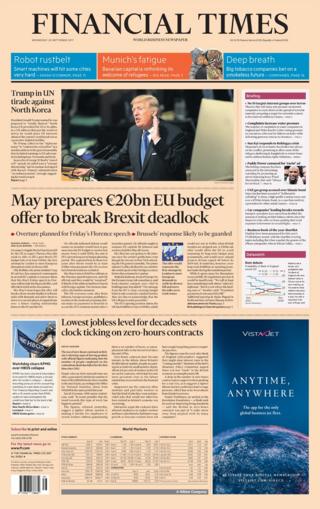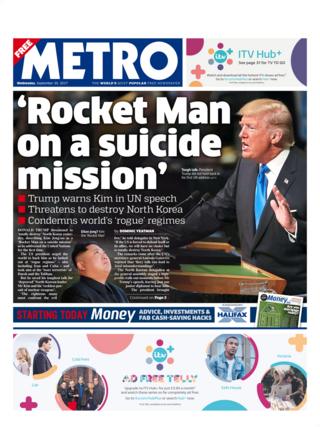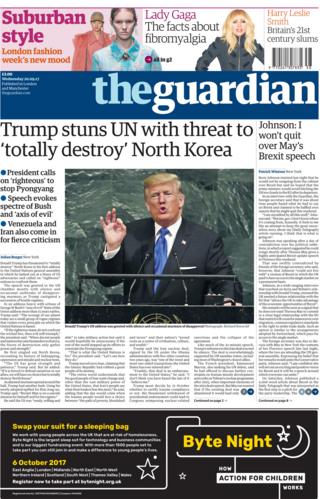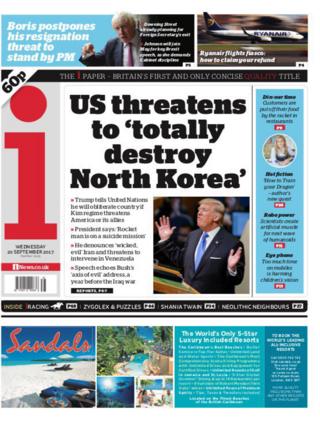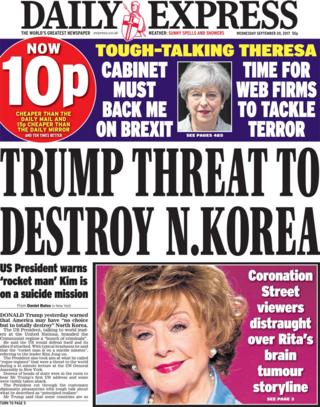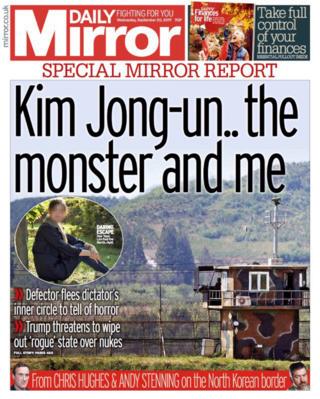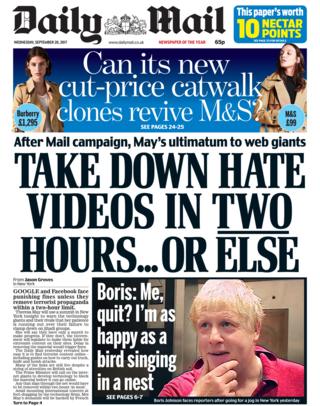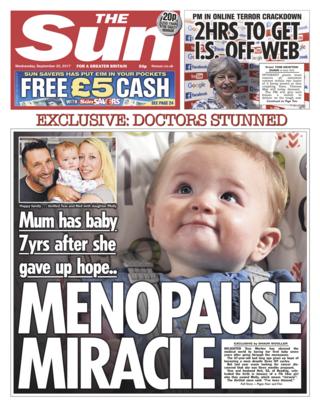 The Times says Foreign Secretary Boris Johnson "pulled back from the brink of resignation".
It says he has struck a backroom deal with Number 10, securing a promise that Theresa May will not use her speech in Florence on Friday to sign the UK up to a "Swiss-style" relationship with the EU after Brexit.
The Daily Telegraph talks of the prime minister securing a cabinet truce, with a deal under which Britain would pay substantial sums to the EU until at least 2020, but no further payments after the transition period.
The Financial Times says Mrs May will offer to fill a post-Brexit EU budget hole of at least 20bn euros.
"Just go BoJo," is the Daily Mirror's view – although it says his yearning to be a Brexit martyr is the only reason Mrs May should not sack him.
The Daily Mail thinks there is more at stake that Mr Johnson's career – but "of course he should stay, fighting inside the tent for a meaningful Brexit".
According to the Guardian, US President Donald Trump "stunned" the UN with his threat to totally destroy North Korea.
The paper talks of him "lashing out at a litany of US adversaries" in a speech greeted mostly with silence, and outbreaks of disapproving murmurs.
The FT calls it a "tirade".
His words have reverberated around the world, not least in South Korea, where the Korea Herald describes it as a "combative speech" in front of a "murmuring crowd".
The Seoul-based Joongang Daily talks of "a blistering speech" – but one which signalled little in the way of policy change.
Here, the Mirror leads on a special report from the North Korean border, telling the story of a defector who has fled Kim Jong-un's inner circle.
She describes in horrific detail the brutality of Kim Jong-un and how he casually orders the often bizarre executions of anyone he deems to have crossed him or his party, and forces thousands of people to watch.
The officer leading the UK military's hurricane relief effort in the Caribbean has strongly defended the operation after the foreign secretary described the international response as "all a bit piecemeal and hand-to-mouth".
Speaking to Buzzfeed, Brig John Ridge said: "We took a degree of risk in order to make sure we could respond as quickly as possible."
He says the priority was "to get in there and get doing stuff" – and he is very comfortable with what has been achieved.
Get news from the BBC in your inbox, each weekday morning
According to the Times, a detective in Bedfordshire who tried to blackmail a man seen leaving a brothel was assigned to investigate the case once the victim reported the crime to the police.
Det Con Gareth Suffling was found out after colleagues became suspicious about his nervousness and constant checking of his mobile phone.
He was jailed for 18 months after pleading guilty at at St Albans Crown Court.
Finally, the Sun's front page has a picture of a baby girl it calls the "menopause miracle".
Tess Morten, 47, from Reading had given up hope of ever having a child after three failed rounds of IVF.
But when she went to hospital for an emergency scan for suspected cancer, she found out instead that she was three months pregnant.
Experts believe HRT treatment she was undergoing might account for it.
She tells the paper: "I've been blessed."