Newspaper headlines: Kevin Spacey 'wiped' and a Brexit breakthrough?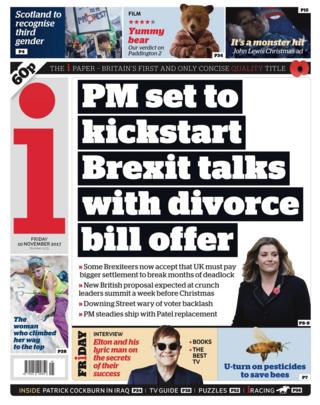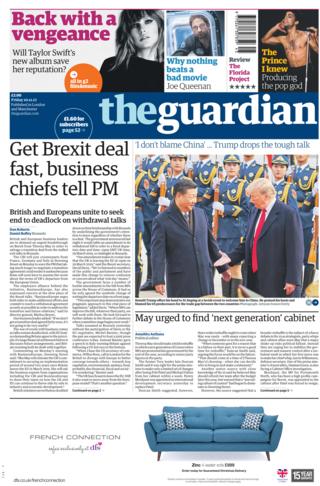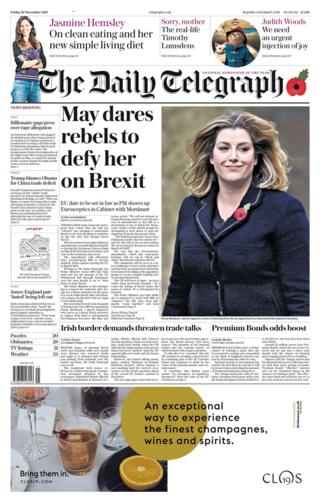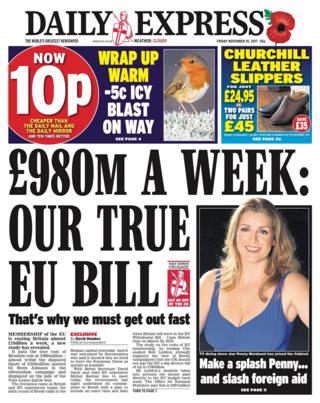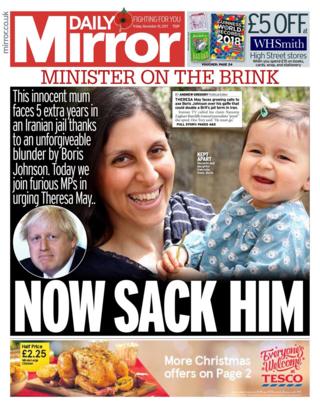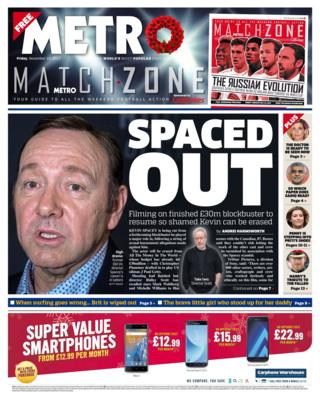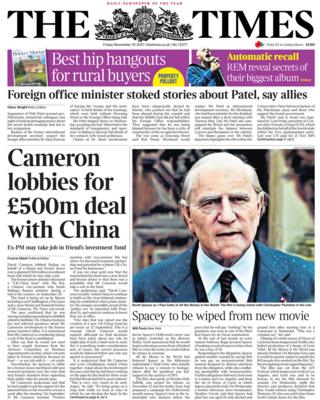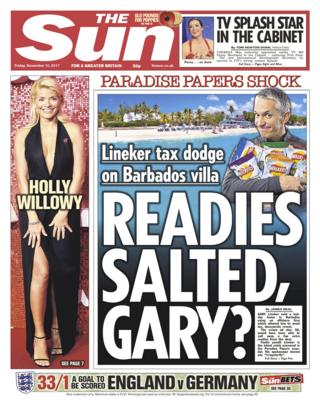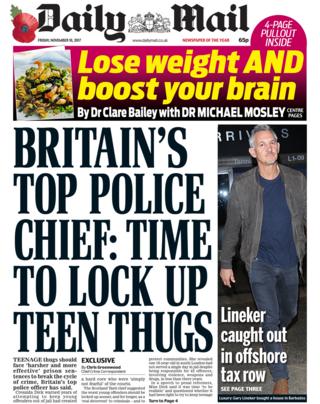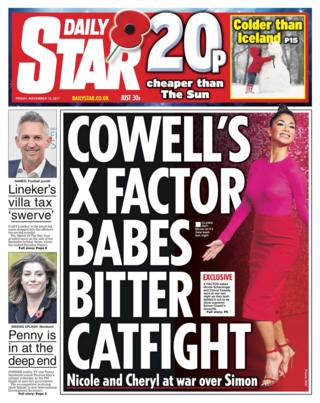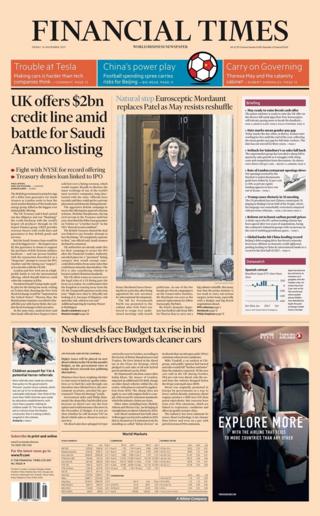 Brexit stories make many of Friday's front pages.
The Daily Telegraph's splash focuses on Prime Minister Theresa May's warning to pro-European Tory rebels not to try to halt Brexit.
In an article for the paper, she warns she "will not tolerate" attempts "to slow down or stop our departure from the European Union".
The i has the headline "PM set to kickstart Brexit talks with divorce bill offer".
It says some Brexiteers now accept the UK must pay a bigger settlement to break months of deadlock – and the new British proposal is expected at the EU summit next month.
The Daily Express highlights a study saying says EU membership is costing Britain almost £1bn a week.
The paper says the figure is almost treble the disputed £350m quoted by the Leave campaign during the referendum.
It declares: "That's why we must get out fast."
The Daily Mirror says Mrs May is facing growing calls to axe Foreign Secretary Boris Johnson over his recent gaffe which a charity says could double the jail term for a British-Iranian Nazanin Zaghari-Ratcliffe.
She is currently being held in a prison in Tehran.
"Now sack him", is the paper's front page headline.
The Times's leader urges the foreign secretary to apologise for his "false suggestion" that Mrs Zaghari-Ratcliffe was working during a visit to Iran last year.
It says that if Iran does increase her sentence, his position – already vulnerable – will be untenable.
Get news from the BBC in your inbox, each weekday morning
Many of the papers welcome Penny Mordaunt's appointment as the new international development secretary, in what the Times calls a slow-motion reshuffle.
For the Sun, her promotion propels Ms Mordaunt into the ranks of senior leadership contenders.
It says she doesn't have the "corner shop to the cabinet" back story of her predecessor, Priti Patel.
But she's a close second best for rank and file Tory members – coming from an impeccable military pedigree.
The Telegraph says Ms Mordaunt is a fresh face – and the cabinet needs more vim.
The papers also widely report Ms Mordaunt's participation in ITV's celebrity diving show, Splash! in 2014.
It is also a chance for some diving-related puns.
The Telegraph says Ms Mordaunt "is ready to make a splash in the Tory Cabinet". For the Daily Star, it's: "Penny is in at the deep end".
Harsher sentences
The Daily Mail gives its support to a call by Metropolitan Police Commissioner, Cressida Dick, for violent teenage offenders to face "harsher and more effective" prison sentences.
She says it would help break the cycle of crime and that years of attempting to keep young offenders out of jail have created a hard core who are now "simply not fearful" of the courts.
The paper describes her as a "common sense cop" and asks: "will her fellow police chiefs, with their sociology degrees and right-on philosophies, now sit up and take notice?"
And finally, the mayor of Venice was having none of it when he was sent an open letter by a British tourist complaining of a bill for £463 when he and his parents had lunch at a trattoria near St Mark's Square.
According to the Times, Luke Tang – a university lecturer from Birmingham – told the mayor that the waiter took advantage of the fact that none of them spoke Italian and had served dishes they hadn't ordered.
But the Telegraph says the mayor accused the party of being "cheapskates" and not leaving a tip.
He also scolded them for not speaking Italian.
"If you come to Venice", he told Italian television, "you need to shell out a bit. You are welcome, but you need to spend."