Nissan £60m in doubt after investment U-turn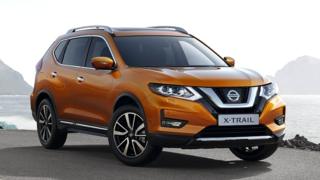 Nissan will be forced to reapply for nearly £60m of taxpayer support after backtracking on a promise to build its X-Trail SUV in Sunderland.
A letter from the government to Nissan, written in 2016, revealed that the Japanese carmaker would only get the money if it made the car in the UK.
The government clarified that Nissan had received just £2.6m of the funds, but would have to reapply for the rest.
Business Secretary Greg Clark said the X-Trail would have created 741 UK jobs.
But he told the House of Commons that Nissan had committed to building its Qashqai, Juke and Leaf models in Sunderland, where it employs 7,000 workers.
Mr Clark also said: "While the decision was made on broader business grounds, Nissan commented on the need for us to come together and resolve the question of our future trading relationship with the EU. I believe their advice should be listened to and acted upon."
In the 2016 letter from Mr Clark to Nissan's then chief executive Carlos Ghosn, he said the funding was contingent "on a positive decision by the Nissan board to allocate production of the Qashqai and X-Trail models to the Sunderland plant".
Nissan had originally asked for £80m in state support, but following a review by an independent advisory committee, that figure was reduced to £61m.
A spokesman for the Department for Business, Energy and Industrial Strategy said Nissan has been given £2.6m and would have to reapply for the remaining £58.4m.
On Sunday, when Nissan announced its decision not to build the X-Trail SUV in Sunderland, the firm's Europe chairman, Gianluca de Ficchy, said that "the continued uncertainty around the UK's future relationship with the EU is not helping companies like ours to plan for the future".
The government had to clarify its position after Business Minister Richard Harrington told the BBC that Nissan would get the £61m support payment.
Mr Harrington told BBC Newcastle: "The £60m still stands. It's to do with research and development and developing alternative technologies and making sure Nissan is at the forefront of that.
"This was nothing to do with the X-Trail."
Critical priority
Following the UK's vote to leave the European Union in June 2016, Mr Ghosn had hinted that he would seek compensation if car exports to Europe were subject to tariffs.
Mr Ghosn met Prime Minister Theresa May to discuss the future of Nissan's plant in Sunderland, after which he said he was "confident" that the government would keep the UK a competitive place to do business after it leaves the EU.
In the letter to Mr Ghosn, Mr Clark said: "It will be a critical priority of our negotiation to support UK car manufacturers and ensure that their ability to export to and from the EU is not adversely affected by the UK's future relationship with the EU."