Parsons Green: Tube bomb 'became fantasy', says accused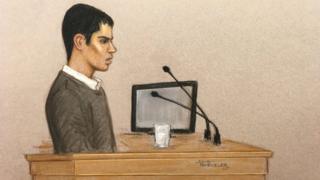 The Iraqi asylum seeker accused of planting a bomb on a Tube train at Parsons Green has said it became a "fantasy" for him when he was "very bored" over the school holidays.
Ahmed Hassan, 18, admitted building the device that partially detonated on the District Line on 15 September 2015.
Mr Hassan told the court the "idea of being chased by police and in Europe by Interpol… was very attractive".
He denies attempted murder and causing an explosion likely to endanger life.
He said the fantasy was about being a fugitive and getting away, rather than the bomb, saying he "wanted attention".
Mr Hassan added: "The idea of killing another human being never crossed my mind at all. Never in my life."
When the prosecution asked if he regretted his actions, he said: "Yes, very much so. Leaving the device on the train. Because it is not right… making a mess."
School holiday 'my enemy'
The teenager told the Old Bailey he did not like having time off from school and had not been sleeping because of bad dreams.
"The school holidays were basically my enemy," said Mr Hassan. "I didn't like it because there was nothing to do. I would get very bored."
The restless teenager would then watch lots of action movies and documentaries about fugitives, as well as drinking up to six energy drinks each day.
The court also heard he had considered suicide "many many times".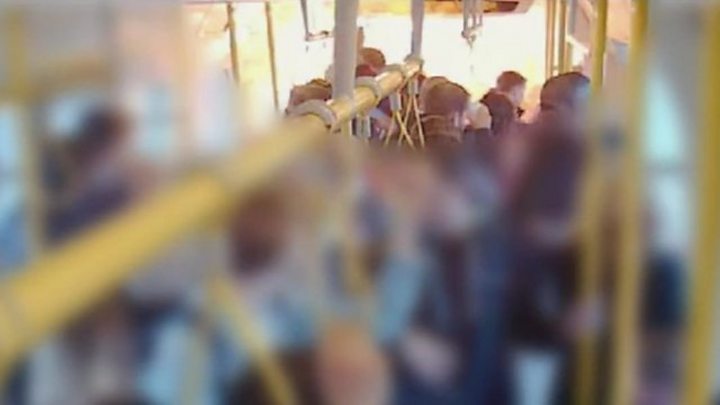 The court heard how Mr Hassan made TATP explosives two days before the attack from chemicals he had bought, after he had already assembled a timer by following a "step-by-step" guide online.
He then went on to test the explosive the next day in a fizzy drink can on the kitchen table of his foster home in Sunbury, Surrey.
Mr Hassan told jurors: "I heard a 'whoof' and a very small heat, fire, for a fraction of a second."
He said he was certain that the substance "would not explode" and "it would just burn".
But prosecutor Alison Morgan said he "knew precisely" what TATP was and what would happen.
She claimed Mr Hassan had lied about testing the chemical compound on the table as there were no burn marks or traces of explosives found on it.
When he refused to watch the CCTV of the explosion in court, she said: "Well I will tell you then – there's a huge fireball that rips its way through that carriage, and you say that's what you intended to happen?"
Mr Hassan replied: "I knew it would make a fire as it did in the test."
'No contact with IS'
Earlier, Mr Hassan, an Iraqi asylum seeker, denied having any contact with the Islamic State group in Iraq.
Prosecutors said that he had told Home Office officials 20 months before the attack that he had been kidnapped by IS and trained to kill.
But the teenager told jurors he had lied to improve his case for asylum after being given advice by other migrants he met when he was in the so-called Jungle camp in Calais.
"I came from a wealthy part of Northern Iraq and if I told them that they would have deported me," he said.
"In the Jungle in Calais, people used to talk about these things and make up stories.
"I never came across a refugee who said he would tell the truth when he arrived in the country."
'Sleeping rough'
Mr Hassan described his journey to the UK, first from Iraq to Turkey, then on to Italy where he claimed he had been "abused" by the Italian authorities.
He travelled from there to Paris and then to Calais, where he stayed for around two months before entering the UK on a lorry in October 2015.
He was then taken to Bay Tree, a Barnardo's home in Horley, Surrey, where he was for about six months, saying it was a "relief" after the refugee camp.
Mr Hassan was enrolled on a two-year media course at Brooklands College in Weybridge, Surrey, and his "ultimate goal" was to become a wildlife photographer, "like David Attenborough".
The teenager claimed to have won a student of the year prize six times in a row in Iraq, and was awarded another at his college in June 2017.
He described himself as a Sunni Muslim and said he prayed five times a day, but when asked if he cared about people being from other faiths, he said: "Not at all, not in the slightest."
Mr Hassan also told the jury that both his parents were dead.
He said he was too young to remember his mother, but remembered his father, who died "in an explosion while he was working as a taxi driver."
He added: "He used to go to work and come back evenings and then he did not come back.
"It was very difficult. I did not understand what was going on. I was in a state of confusion because of fighting, because of bombing."
On Monday, the court heard from the prosecution that Mr Hassan blamed the UK and US for the deaths of his parents, and that he believed his father had been killed by an American bomb.
College lecturer Kayte Cable said Ahmed Hassan told her it was "his duty to hate Britain" because of what happened to his family.
The trial continues.