Snow and ice bring UK travel disruption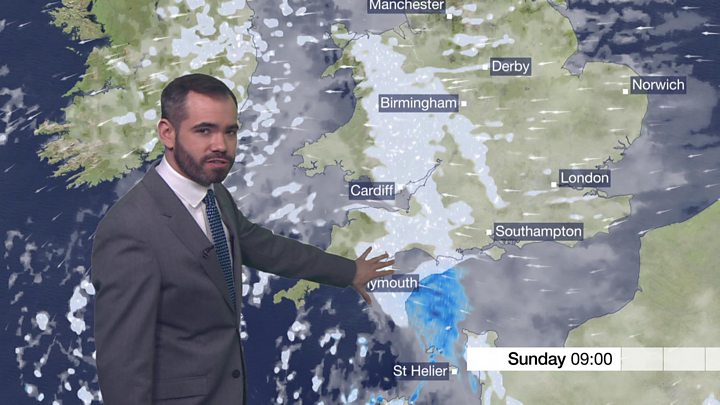 Snow and ice are causing further disruption to road, rail and air travel in parts of the UK.
Met Office amber warnings of a possible risk to life are in place in south-west England, south-east and mid-Wales and the West Midlands all day.
Police say driving conditions are poor, with no safe routes across the Pennines and snow ploughs dispatched to the M62.
Lincolnshire Police said up to 35 vehicles were stuck overnight in snow drifts on the A158 near Edlington.
Meanwhile, airports including Heathrow, Gatwick, Stansted and Luton have urged passengers to check flight information before travelling due to possible disruption.
On the rail network, South Western Railways has cancelled some early services to test its tracks.
A spokesman said the company might need to run de-icing trains to clear routes before its timetable can resume.
Amber warnings remain in place in north-west England, Yorkshire, the Midlands, London and the South East until 09:00 GMT.
Yellow "be aware" warnings for snow and ice affect much of the England and Wales, central and south-west Scotland and parts of Northern Ireland until Sunday evening.
Richard Leonard, Highways England's head of road safety, said while gritters would be treating the roads "it is still important to drive to the conditions when snow is forecast".
Cheshire Police warned there is currently "no route to safely cross the Pennines into Cheshire". The A54, A537 Cat and Fiddle and B5470 are all closed or blocked by snow.
More than 100 flights to and from Heathrow were cancelled on Saturday and the airport warned of the potential for more disruption on Sunday.
"We've worked with our airlines to consolidate Sunday's flight schedule, moving passengers on to fewer flights," a spokesman said.
Gatwick said passengers should check the status of their flights and also allow extra time for their journey to the airport.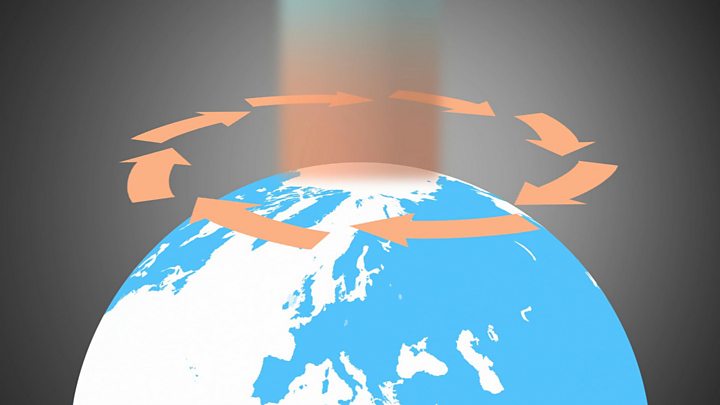 The wintry snap dubbed the "mini beast from the east" brought the heaviest snow showers on Saturday to north-east England and the North Midlands, as well as parts of southern England – including Hampshire, Sussex and Kent.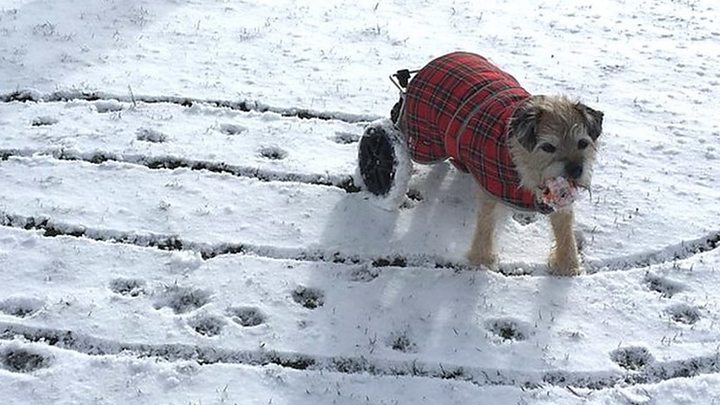 Temperatures dipped to a low of -3.2C in Loftus, North Yorkshire, during Saturday afternoon and strong winds made temperatures feel as cold as -7C or -8C for some.
The Met Office said the daytime high at Great Dun Fell, in Cumbria – at a height of 847 metres – reached -7.1C, but with wind gusts in excess of 85mph, there was a "feels like" temperature of -22C.
A cold spell nicknamed "the Beast from the East" saw much of the UK and Europe blanketed in snow at the start the month.