SNP to launch growth report on economics of independence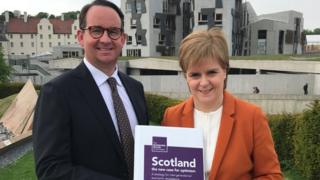 The SNP is to launch its "growth commission" report on the economics of an independent Scotland.
The 354-page analysis document, which promises a "new case for optimism", will be published online later this morning.
Encouraging immigration and growing Scotland's population is a key target among the report's recommendations.
Opposition parties said the SNP's pursuit of independence was doing nothing for Scotland's economy.
The growth commission was set up in September 2016 by First Minister Nicola Sturgeon as part of a "new conversation" on Scottish independence.
It is now being published to "restart the debate" on the topic, and is to be debated by special assemblies of SNP members around the country in the run-up to the party's autumn conference.
Ms Sturgeon has pledged to set out her thinking on when there might be a second independence referendum in the autumn, once there is more clarity about Brexit.
Mr Wilson has already revealed that the report studies 12 successful small countries around the world, with Denmark, Finland and New Zealand highlighted as examples to take lessons from.
Ahead of publication, he also set out details of a "come to Scotland" campaign to drive immigration and population growth.
This would include tax relief for highly skilled migrant workers to attract the "best and brightest" talent, measures to encourage international graduates to stay in Scotland, and a new visa system modelled on "the most efficient and easy to use in the world".
Mr Wilson warned of a "real danger" that current UK policies could see the working population fall, and said Scotland has a "great opportunity to strike a completely different tone".
He said: "Growing our working population and, through it, our economy is perhaps the greatest national challenge we have – and is made even more urgent by Brexit and the threat it poses to our working age population.
"Scotland needs more migration to drive our economy forwards and we need to extend a friendly welcome to international talent.
"Our package is designed to attract people to Scotland to study and to stay here, to build a career a fulfilling future for themselves. We need investors, entrepreneurs and a skilled workforce to achieve our potential."
The "optimistic" report is also expected to include proposals about what currency an independent Scotland could use and policy ideas to grow the economy through greater participation in the labour market and improved productivity.
The Scottish Conservatives said the Scottish government was failing to grow the Scottish economy because it was "obsessing about independence".
Finance spokesman Murdo Fraser said: "Of course we want to attract the best and brightest to come and live and work in Scotland. But you don't do that with high taxes and you don't do it by trying to tear up the UK.
"Four years on from the independence referendum, it really is time for the SNP to stop building castles in the sky, and to get on with the job of building a stronger Scotland now."
Scottish Labour said that there was "no case for separation" that matched the party's own vision of "an anti-austerity, pro-public ownership economy".
Leader Richard Leonard said: "The real divide in the UK is not between the people of the four nations – it's between the richest and the rest of us. Rather than building borders between Scotland and England we should be building homes, schools, and hospitals."
Scottish Lib Dem leader Willie Rennie said there was "nothing hopeful or optimist about inflicting yet more division and economic risk on our country by separating us from the UK".
He added: "The SNP should learn from the chaos of separating us from Europe with Brexit. On the back of Brexit, independence would be a negative and damaging development."