Sophie Lionnet trial: French nanny 'murdered by employers'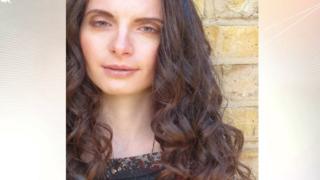 A French nanny whose charred remains were found in a garden was held captive and badly beaten before her death, a court has heard.
The body of Sophie Lionnet, 21, was discovered at a house in Southfields, south London, on 20 September.
He former employers Sabrina Kouider, 34, and her partner Ouissem Medouni, 40, are on trial for Ms Lionnet's murder at the Old Bailey.
The couple admitted they tried to dispose of her body, but deny murder.
Prosecutor Richard Horwell QC told jurors: "Sophie was trapped in a domestic nightmare."
Ms Lionnet's body showed signs of "significant violence" including "fractures to her sternum, to four of her ribs and to her jawbone", Mr Horwell told the court.
The court heard Ms Lionnet lived a "bizarre and oppressive" life under French nationals Ms Kouider and Mr Medoun.
Mr Horwell told the jury Ms Kouider made a series of accusations against Ms Lionnet including that she'd conspired to "sexually abuse the entire family".
He said Ms Lionnet "complained that she was being beaten and that she was not allowed to return to her home in France".
"Their plan was to dispose of Sophie's body and to explain her disappearance by inventing a story that she had left their employment under something of a cloud and returned to France," he added.
Ms Lionnet's body was found after neighbour's raised concerns about a fire in their back garden.
The trial continues.