Storm Eleanor: Travel disruption and homes without power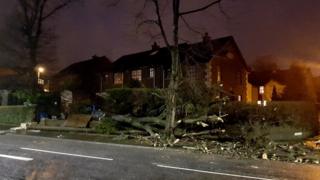 Thousands of homes are without power and roads have been disrupted after Storm Eleanor swept across the UK.
A Met Office yellow warning for winds of up to 80mph (128km/h) is in place for Wales, England, most of Northern Ireland and parts of southern Scotland.
A man was injured after a tree fell on a car in the Vale of Glamorgan, Wales.
There are warnings of possible disruption to public transport, but forecasters say the rain and the winds will ease as the day progresses.
More than 12,000 homes have no electricity in Northern Ireland, while there are 2,700 properties without power in England and 460 in Wales.
As Storm Eleanor – the fifth-named storm of the season – approached from the Atlantic, the Met Office said injuries from flying debris were also possible.
Worst-affected areas
Northern Ireland, northern England, and south-west Scotland were the first areas to feel the force of the storm, which has now moved out into the North Sea, leaving windy conditions in its wake.
There was also flooding in Galway in the Republic of Ireland, where 97mph gusts were recorded. Gusts of 90mph gusts were recorded in Orlock Head, Northern Ireland.
Has Storm Eleanor hit your area yet? Send us your photos.
On the UK mainland, the Met Office recorded gusts reaching 100mph in Great Dun Fell in Cumbria and 77mph in High Bradfield in South Yorkshire.
Northern Ireland Electricity Networks said trees, branches and other flying debris had brought down power lines and poles, affecting homes in southern counties.
In England, almost 2,000 properties are without power in the Midlands, while 700 in the South West and 460 in Wales are without power.
Transport and travel
Several major bridges have been closed due to high winds and there are numerous reports of fallen trees blocking roads including the M25.
Overturned vehicles have led to closures on the A1M, M6 and M5, where a recovery operation was under way to clear up the contents of a lorry left spilled on the road.
An object in the overhead lines between London Paddington and Hayes reduced the number of trains, while power outages stopped rail services between Letchworth Garden City and Cambridge.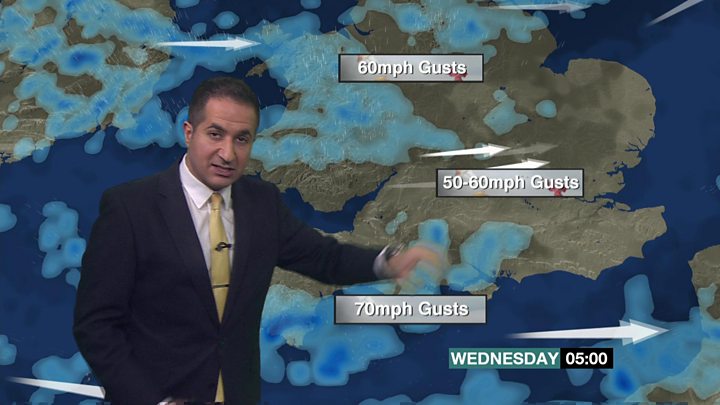 Two lanes have been opened on the Dartford Crossing's Queen Elizabeth II Bridge, which was partly shut at 23:00 GMT for safety reasons because of high winds.
Police on the Isle of Man say a number of roads have been closed due to fallen trees, flooding and debris from damaged buildings.
The Severn Crossing between Gloucestershire and Monmouthshire and the Orwell Bridge near Ipswich also closed overnight due to the high winds.
What forecasters say
The Met Office's yellow warning for severe weather is in force until 18:00 GMT.
BBC Weather presenter Stav Danaos said there would be blustery showers throughout the morning, some of them heavy with hail and thunder.
But forecasters say the rain and the winds will ease as the day progresses and Storm Eleanor makes its way across the Channel.
The Environment Agency says the combination of strong winds and high tides could cause some coastal flooding in the UK.
There are 50 flood warnings in place in England, more than 30 in Wales and more than 10 in Scotland.