Surrey Police 'irresponsible' crying baby TV ad banned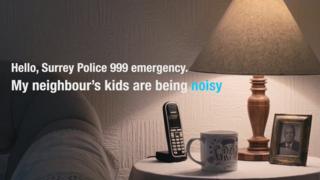 A TV advert featuring the sound of a neighbour's baby crying has been branded "socially irresponsible" and banned.
The Surrey Police advert alternated the word "noisy" with "abused" and encouraged people to report noisy neighbours to the council.
The Advertising Standards Authority (ASA) said it could lead to people failing to report possible child abuse.
Surrey Police said it was disappointed with the decision.
The advert, seen in August, included the sound of a baby or young child crying through a wall.
The text read: "Not all calls are policing matters. To report noisy neighbours, contact your council."
It continued: "When it is a policing matter Surrey Police will be there for you. Think twice. Is your call a policing matter?"
A viewer complained the advert suggested the public should make their own decision about whether police involvement was necessary and said noise from children could indicate a harmful situation.
The ASA said viewers would understand the "ambiguous" scenario to mean they should not call police in situations where they were uncertain whether a child was at risk.
It said the consequences of a viewer being dissuaded from reporting suspected abuse were "extremely serious and even life-threatening".
The ASA ruled the advert must not appear again in the form complained about and said: "Given the specific example used and the potential outcomes of failing to report suspected child abuse, we concluded that the ad was socially irresponsible."
Deputy Chief Constable Gavin Stephens said an independent evaluation commissioned by the force had shown "high public understanding of the juxtapositions of the campaign".
He added: "This particular campaign is centred around helping educate the public about what is and isn't a policing matter. Clearly child abuse is, whereas children just being noisy isn't.
"We need to ensure that the public is contacting us about concerns for safety but knows that general noise complaints are better dealt with by local authorities."
NSPCC director Peter Watt said the charity had spent years telling people to report concerns.
He added: "Any advert, however well meaning, that might stop someone from picking up the phone could lead to dangerous or even fatal consequences."