Thousands take part in Pride parades in Inverness and Stornoway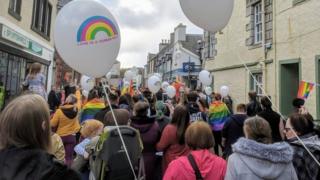 Thousands of people have taken part in the biggest LGBT+ event to be held in Inverness in 16 years, according to its organisers.
Highland LGBT Forum said 3,000 people took part in the Proud Ness parade from Falcon Square to Eden Court Theatre.
A similar event was also held in Stornoway, Lewis, – the first of its kind to be held in the Hebrides.
Hundreds carried rainbow flags and balloons as part of Hebridean Pride's parade from An Lanntair to The Carlton.
To mark the Inverness event, rainbow flags flew above the Town House and Highland Council's headquarters in the city's Glenurquhart Road.
Church of Scotland minister the Reverend Peter Nimmo was among those due to speak at Proud Ness.
Speaking before the parade, the minister said: "I feel honoured to be invited and pleased to hear that a number of clergy from the Church of Scotland and other denominations will be attending.
"I would encourage as many ministers as possible to come along."
Highlands and Islands MSP Maree Todd has praised the organisers of both events.
She said: "To me, these events in both Stornoway and Inverness are about freedom of expression, being proud of your identity, and telling everyone 'you are welcome' here in the Highlands and Islands."
Ahead of the Inverness celebrations, out-reach events were held by the organisers, Highland LGBT Forum, in Aviemore and Fort William.
Proud Ness was opposed by a petition started by a local man, who said the event went against his religious beliefs.
It did not meet Highland Council's rules on petitions, and had no bearing on the local authority's consideration of the event.
Two petitions were launched in support of Proud Ness.
Actor Alan Cumming also offered his support to the parade's organisers.
In a tweet, the Scots star of Bond film Goldeneye, X-Men 2 and TV shows The Good Wife and Instinct, said his late Inverness granny would have marched at Proud Ness.
For the parade in Stornoway, shops were decorated, with flags and balloons available.
A nightclub will host an LGBT Party Night in honour of the Outer Hebrides' first Pride event.