William and Kate to meet Michelin workers in Dundee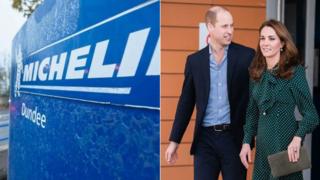 The Duke and Duchess of Cambridge are to visit workers at Dundee's Michelin factory, following the decision to close the plant in 2020.
Prince William and Catherine are expected to meet workers and join a meeting of the Michelin Action Group.
It was set up after the French firm announced that it planned to close the tyre factory with the loss of 845 jobs.
The royal couple will also officially open the new V&A Museum during their trip to Dundee.
Michelin workers were informed in November of the planned closure of the factory which has operated in the city since 1971.
The firm said it faced "serious difficulties" due to changes in the market for car tyres and competition from "low-cost, entry-level products from Asia".
Unions described the move as a "hammer-blow" to the city.
Some of those directly affected by the decision – Michelin employees and their families – will be among those expected to meet the royal visitors.
The prince and Catherine, who are known as the Duke and Duchess of Strathearn in Scotland, will hear first-hand how the community has been affected.
They will also attend a meeting of an action group which is working to repurpose the site and ensure new employment opportunities for the local area.
However their engagements in Dundee will begin with a trip to the new V&A Museum.
They will officially open the landmark building, which has attracted more than 380,000 visitors since it opened its doors to the public last September.
The Duchess of Cambridge became the first royal patron of the V&A last year.
V&A Dundee director Philip Long said the museum was "honoured" to welcome the royal couple.
He said: "This official opening marks the beginning of a very exciting year for V&A Dundee, with upcoming exhibitions on videogames, robots and the future of design.
"Through an eclectic programme, we aim to inspire people and provoke discussion about the role of design in everyone's lives."