Winchester M3 arson: Boy, 17, caused £40m damage to economy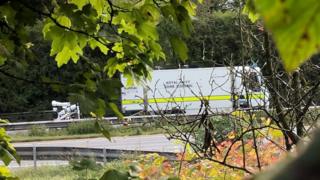 A 17-year-old boy who tried to kill drivers by dropping fire bombs from a motorway bridge has been detained in hospital.
Nicholas Elger caused an estimated £40m in damage to the economy by forcing the closure of part of the M3 in Hampshire for 11 hours on 23 September, a heard.
The teenager previously pleaded guilty to arson recklessly endangering life.
The former Winchester College pupil was handed an interim hospital order at Winchester Crown Court.
Judge Keith Cutler told him: "I am very concerned about your thoughts, what is actually going on within your plans, in your mind."
'Carriageway ablaze'
Rob Welling, prosecuting, said the devices were apparently thrown at lorries on two separate occasions in September.
At about 04:00 BST on 16 September, a lorry driver had to swerve to avoid two fire bombs thrown from a bridge near Winchester, Mr Welling said.
A week later, another driver approaching the bridge at night found the "carriageway ablaze with flames reaching the height of a person".
In later interviews, Elger said he had been hoping to kill someone and regretted that he had not succeeded.
Mr Welling said Elger had previously revealed an alter ego called James to one of his teachers at Winchester College but had not received psychiatric treatment.
The housemaster found Elger had a knife with the name James carved into the handle as well as materials for an incendiary device in a drawer.
The teenager previously admitted burgling the school mainly to steal computer equipment on eight occasions in 2016 and 2017.
He also previously admitted blackmailing the headmaster, twice demanding about £20,000 in the online currency Bitcoin to stop the break-ins.
He was expelled after school staff recognised his handwriting on one of the blackmail demands.
Elger will be held at a psychiatric unit while doctors assess whether he has a treatable and diagnosable condition.
Lifting a ban on identifying the teenager, the judge called him a "dangerous young man".
He warned Elger could still face a "significant custodial sentence" when the hospital order was reviewed at a court hearing on 18 May.