Woman killed in Boxing Day police chase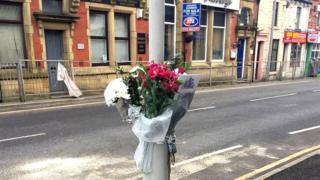 A woman has been killed by a driver being pursued by the police.
The 47-year-old pedestrian was hit by a Vauxhall Corsa in High Street, Rishton, Lancashire, at about 17:50 GMT on Boxing Day.
The driver did not stop and the woman died at the scene. The car was later found abandoned in nearby Cliff Street.
Police are appealing for anyone with information to contact them. The Independent Police Complaints Commission (IPCC) is investigating.
Det Insp Warren Atkinson said: "We would ask anyone who witnessed the pursuit or who may be able to help us to identify the driver to contact us as we continue with our inquiries."
Flowers have been left by the scene in tribute to the victim, who is believed to have lived locally.
Resident Gordon Smith, 77, said: "I only knew her by sight and I knew her dog.
"I was out yesterday and when I got back there were two police cars blocking the road and a police van."
The IPCC said its staff had attended the scene and collected statements from police officers, along with data from the police vehicle.
Operations manager Andy Riley said: "This is a tragic incident in which a woman has lost her life and my thoughts go out to all those affected.
"The IPCC is investigating the circumstances of the police engagement with the Vauxhall Corsa and will be co-operating with Lancashire Constabulary as it carries out a criminal investigation."