Barnaby Joyce: Australia deputy PM takes leave over scrutiny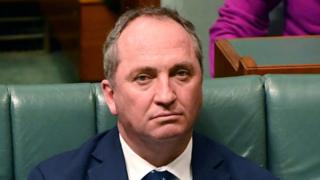 Australian Deputy Prime Minister Barnaby Joyce will take a leave of absence following politically damaging debate over his affair with a former staffer.
Prime Minister Malcolm Turnbull told parliament that Mr Joyce would not fill his post as acting leader next week. Mr Turnbull is due to travel to the US.
Mr Joyce has faced questions over whether he followed ministerial rules.
The scandal has gripped Australian politics since last week.
Mr Joyce's relationship with his former media adviser, Vikki Campion, was revealed publicly last week.
He has rejected scrutiny that he may have breached ministerial standards over two jobs within his party that were offered to Ms Campion last year.
Mr Joyce was due to step in as acting prime minister while Mr Turnbull was away, in line with usual convention.
The role will instead be taken up by Mathias Cormann, the government's leader in the Senate.
Mr Turnbull said Mr Joyce would be on leave for a week, beginning on Monday.