Catalonia referendum: Protesters gather outside court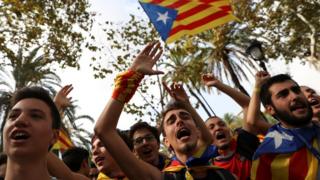 Separatist supporters have gathered outside the high court in Barcelona in the latest protest over Madrid's attempts to stop Catalonia's independence referendum.
The court is deciding whether to release 15 pro-independence officials arrested on suspicion of helping to prepare for the 1 October poll.
Spain's constitutional court says the vote is illegal.
But the region's vice-president said the vote would go ahead if possible.
Oriol Junqueras admitted that police action on Wednesday to disrupt planning for the referendum, including seizing about 10 million voting slips from a warehouse, had "altered the state of play".
But he said "everything is being done" to allow the vote to proceed.
Last night, Spanish Prime Minister Mariano Rajoy said the referendum was a "chimera" and urged separatists to abandon their plans.
Although the referendum itself now looks less likely to take place, the already hostile relationship between Catalonia and Madrid has been exacerbated, says the BBC's Guy Hedgecoe in Barcelona.
Protesters outside the high court on Thursday chanted "Free the prisoners!" and sang the Catalan anthem.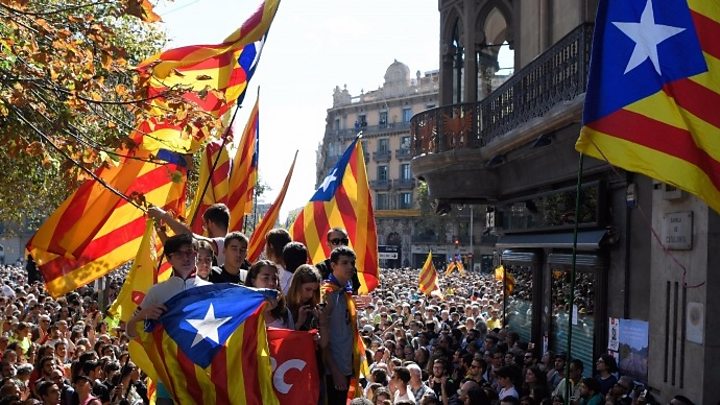 Meanwhile, Spanish news site Publico published a map of cities around Spain planning protests in favour of Catalans' right to vote.
Police searches on Wednesday in Barcelona, the Catalan capital, sparked a mass street protest. Police said up to 40,000 people gathered outside the devolved government's economy ministry in the city, which was searched.
Several hundred stayed on past midnight and some scuffles were reported and objects were thrown as police tried to exit the building. Police charged some protesters trying to block their passage. Three police patrol cars were damaged.
Meanwhile, comments by Catalan President Carles Puigdemont were denounced as "lying, cheating and manipulating" by a Madrid government official in Catalonia.
Mr Puigdemont had accused the central government of effectively suspending devolution after it moved to seize control of regional finances to stop them being used to fund the referendum.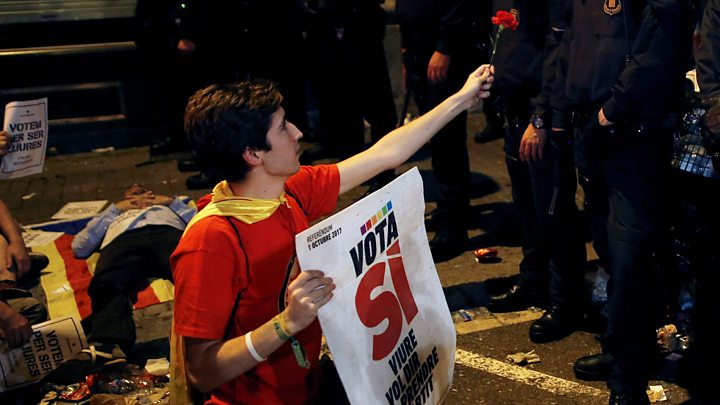 Separatist parties who control the Catalan parliament pushed through the referendum law earlier this month after unsuccessfully demanding for years the right to hold a free vote on self-determination.
Catalonia, a wealthy region of 7.5 million people in north-eastern Spain, has its own language and culture but is not recognised as a separate nation by the Spanish state.