Costa Rica election: Conservative leads in presidential poll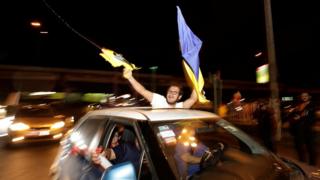 Conservative Christian evangelical preacher Fabricio Alvarado has taken an early lead in Costa Rica's presidential election.
With more than half the votes counted, Mr Alvarado had 25% of the vote with nearest rival Carlos Alvarado on 21%.
If no candidate wins at least 40%, a second round will be held in April.
Campaigning has been dominated by the issue of same-sex marriage after a human rights court ruled that such alliances should be recognised.
The binding ruling by the Inter-American Court of Human Rights required Costa Rica to legalise same-sex marriage.
But the decision led to a backlash in the deeply Catholic Central American country and saw Fabricio Alvarado become the most popular presidential candidate.
Mr Alvarado, who represents the right-wing National Restoration Party (PRN), surged to the top of opinion polls.
In all, 13 candidates ran to replace President Luis Guillermo Solis of the centre-left Citizen's Action Party (PAC).
Running in second place was PAC candidate Carlos Alvarado (no relation to Fabricio Alvarado) closely followed by former lawmaker Antonio Alvarez from the centre-right National Liberation Party (PLN).
Observers say that as more than a third of the electorate appeared to be undecided, a run-off seems likely.