Cyclone Debbie forces evacuations in Australia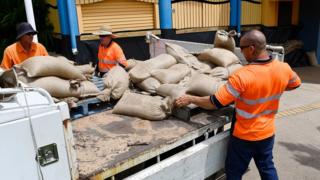 Residents in northern Australia have begun evacuating as a cyclone carrying winds up to 230km/h (143 mph) moves towards the Queensland coast.
Cyclone Debbie is tipped to become a Category 4 system – the second most severe – when it arrives early on Tuesday local time, authorities said.
Some people have refused to leave despite warnings the destructive core could be as wide as 100km (62 miles).
One person has already died in a car crash caused by the weather.
Queensland Premier Annastacia Palaszczuk said the storm would rival Cyclone Yasi, a devastating event in 2011.
"This window of opportunity to leave is drastically closing," she told a press conference on Monday.
"I am just pleading to everyone, please, listen to authorities. I do, you must as well. This is about your safety, it is about the safety of your family and the safety of your children."
A state on edge
The cyclone is expected to make landfall sometime after 07:00 on Tuesday (20:00 GMT Monday) anywhere in a 265km zone from Townsville to Proserpine.
"That is the uncertainty of cyclones," said Bureau of Meteorology regional director Bruce Gunn.
Mr Gunn warned the cyclone could hit the coast at high tide, bringing waves up to 8m and flooding for low-lying areas.
The Whitsunday holiday islands were already being buffeted by 100km/h winds, he said.
Police Commissioner Ian Stewart said the weather was also responsible for a fatal car crash, believed to involve a tourist.
He urged people to evacuate safely before it was too late.
"At some time later today, the weather event in that area, in the warning area, will get to an extent where all emergency services will not be able to respond to calls for assistance, because obviously, we have got to maintain the safety of our staff," he said.
Queensland authorities have closed 102 schools, 81 early childhood education centres and two ports.