Helmut Kohl: Leaders pay tribute to German reunifier in Strasbourg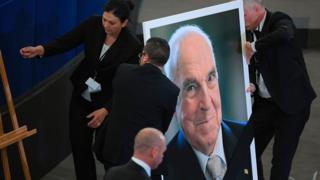 World leaders are attending a ceremony at the European Parliament in Strasbourg to commemorate the life of former German chancellor Helmut Kohl – who oversaw German reunification.
Mr Kohl, who died last month, was a major driving force behind closer European integration.
Dignitaries have been paying respects at his coffin, which has been draped in the EU flag.
He will be buried in the German town of Speyer later in the day.
More than 2,000 police are on duty in Strasbourg.
Speakers include the current German and French leaders Angela Merkel and Emmanuel Macron as well as Russian Prime Minister Dmitry Medvedev, former US president Bill Clinton and former Spanish president Felipe González.
It is the first time that the European Parliament has paid tribute to a leader in such a way.
The ceremony was proposed by European Commission President Jean-Claude Juncker, who was nicknamed "Junior" by Mr Kohl and who described the German after his death as "my mentor, my friend (and) the very essence of Europe".
However Germany will not hold a state funeral for Mr Kohl in Germany at the request of his widow Maike Kohl-Richter, his second wife.
That decision has been criticised by Mr Kohl's son by his first wife, Walter Kohl, who wanted a farewell ceremony near the Brandenburg Gate in the German capital Berlin, near the site of the former Berlin Wall.
Walter Kohl has described the European Parliament commemoration as "unworthy" in an interview with German newspaper Die Zeit.