Hurricane Irma: Eye of storm hits Florida west coast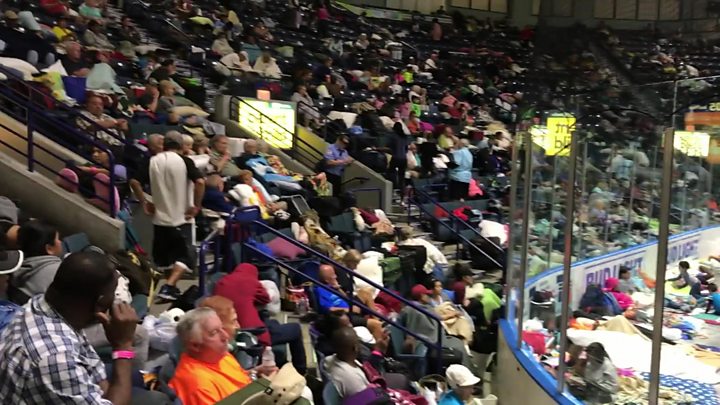 The centre of Hurricane Irma has hit mainland Florida, just south of Naples, amid warnings of storm surges as high as 15ft (4.5m).
Irma made landfall on Marco Island off Florida's west coast with winds of up to 105mph (169km/h) but has since been downgraded to a category two storm.
More than 2.5 million homes in the state are without power, and parts of the city of Miami are under water.
Three storm-related deaths have been reported in Florida.
In its latest update at 00:00 GMT Monday, the National Hurricane Center (NHC) said that Irma was now moving northwards near the city of Fort Myers.
Irma has already devastated parts of the Caribbean, killing at least 28 people.
Some 6.3 million people in Florida had been told to evacuate.
President Donald Trump has approved a major disaster declaration and emergency federal aid for Florida.
He described the hurricane as a "big monster", praising the federal agencies involved with the storm and saying he would go to the state "very soon".
"We may have been a little bit lucky in that it went on the west, and it may not have been quite as disruptive, but we're going to see, it's going to play out over the next five or six hours," Mr Trump added.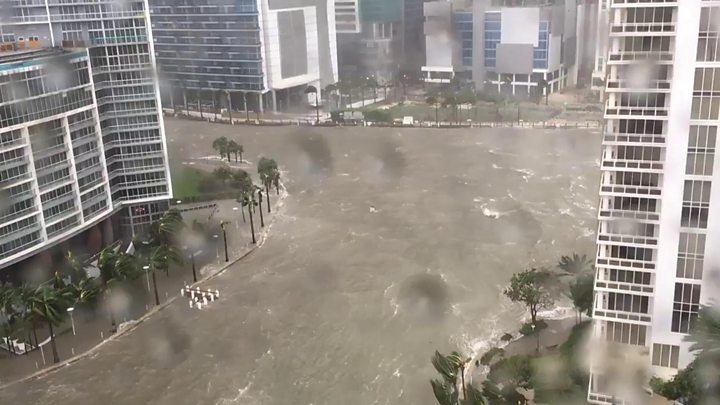 Where is the storm now?
The storm hit Marco Island at 15:35 local time (19:35 GMT).
It is now losing strength, but is expected to remain a hurricane at least until Monday morning, the NHC said.
"On the forecast track, the eye of Irma should move near or over the west coast of the Florida Peninsula through Monday morning.
"Irma should then move inland over northern Florida and south-western Georgia Monday afternoon."
The NHC earlier tweeted that people in the area of Naples and Marco Island should move away from the coast as storm surges of up to 15ft were possible.
There has been some flooding in the centre of Naples but it is believed to be fresh water.
There is dead calm and people have been out on the streets, but the storm surge is expected to come later.
The storm is now heading for the Tampa Bay area, with a population of about three million. The region has not been hit by a major hurricane since 1921.
The NHC said that although the storm was set to weaken further it would remain a hurricane at least into Monday.
How did it arrive in Florida?
After leaving the coast of Cuba, Irma barrelled through the Florida Keys, a chain of low-lying islands to the south, on Sunday morning.
Media reports say a man was killed on Saturday in the Keys when his truck crashed into a tree as the outer bands of the storm arrived.
The whole of the southern tip of Florida has seen high winds, driving rain and storm surges.
About 2ft (60cm) of water has been seen in Miami's financial district, where one major street resembled a river, but the worst damage is expected on the west coast.
Two cranes have collapsed in high winds in the city.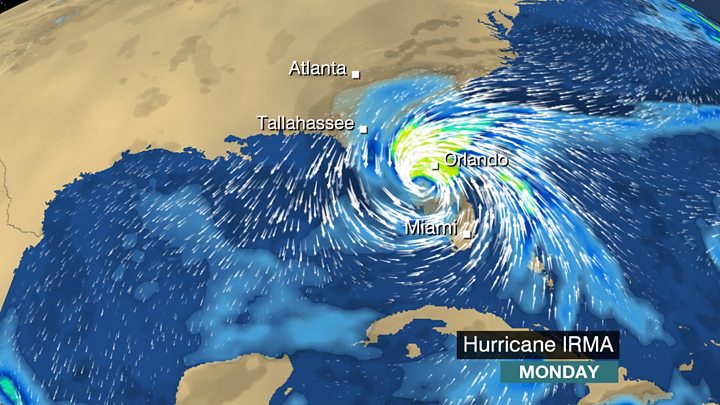 Which other areas have already been hit?
Irma is the most powerful Atlantic storm in a decade, and has already caused widespread destruction on several Caribbean islands:
---
Are you in the region? Are you a holidaymaker unable to get a flight home or a resident who has been preparing for Hurricane Irma? If it is safe for you to do so, share your experiences by emailing haveyoursay@bbc.co.uk.
Please include a contact number if you are willing to speak to a BBC journalist. You can also contact us in the following ways: