Hurricane Irma: France, UK and Netherlands step up response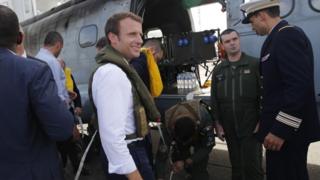 European countries are boosting relief efforts in their Caribbean territories devastated by Hurricane Irma, amid criticism over the response.
French President Emmanuel Macron, who is visiting French islands that took the full force of the storm, said a huge "airlift" was bringing more aid.
UK Foreign Minister Boris Johnson is due in the Caribbean and Dutch King Willem-Alexander spent the night there.
Irma killed at least 23 people in the three countries' overseas territories.
The victims include 10 dead on the French island of Saint Barthélémy and on the French part of Saint Martin – which is shared with the Netherlands.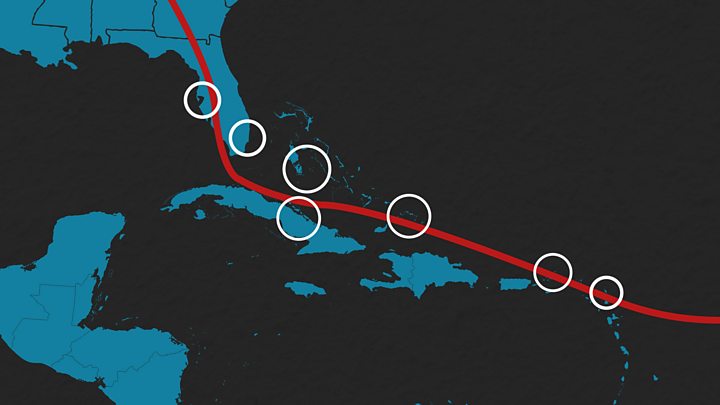 As he arrived on the neighbouring French island of Guadeloupe on Tuesday, President Macron said the government had responded with "one of the biggest airlifts since World War Two".
He told reporters that last week's hurricane had been almost unprecedented and that the effort had been hampered by a second hurricane, Jose, in the area days later.
But he promised a "rebirth" of the islands as troops and relief supplies were being sent.
Critics had accused Mr Macron's government of not doing enough to help hurricane victims and to prevent looting on Saint Barthélémy and Saint Martin.
The UK government has faced similar complaints following the death of at least nine people people on British territories.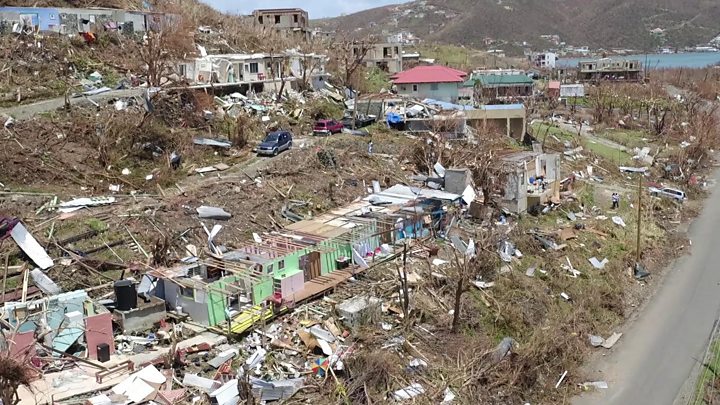 Mr Johnson is due to visit the British Virgin Islands and Anguilla, which have also suffered widespread devastation.
The BBC's Laura Bicker and Paul Blake on Tortola island say many neighbourhoods have been flattened, and their residents can be seen trying to cook and clean amidst the rubble.
About 1,000 UK soldiers are now in the region to deliver aid, and more troops and supplies are due in the coming days, officials say.
More than 100 prisoners escaped during Irma
Interactive

See how Road Town, Tortola has been damaged by Hurricane Irma

9 Sep 2017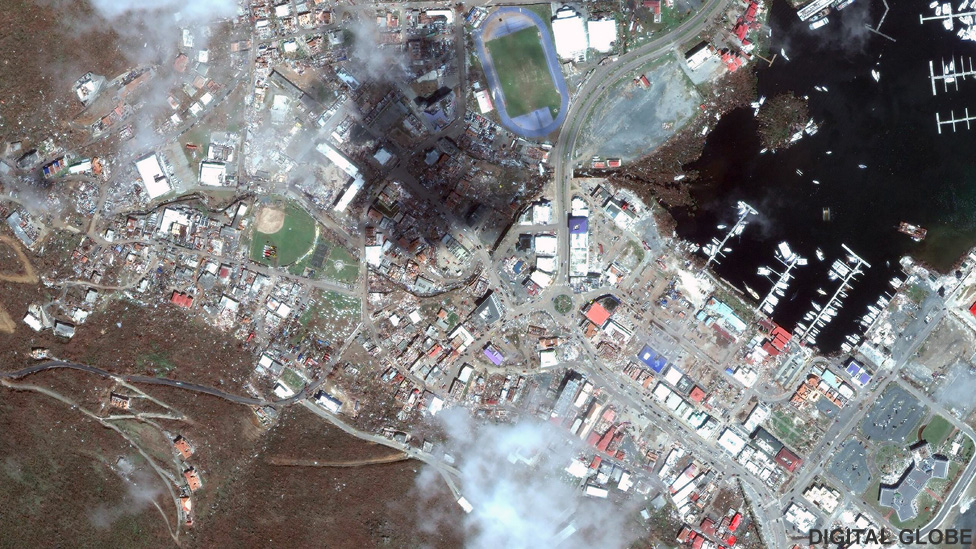 31 Mar 2015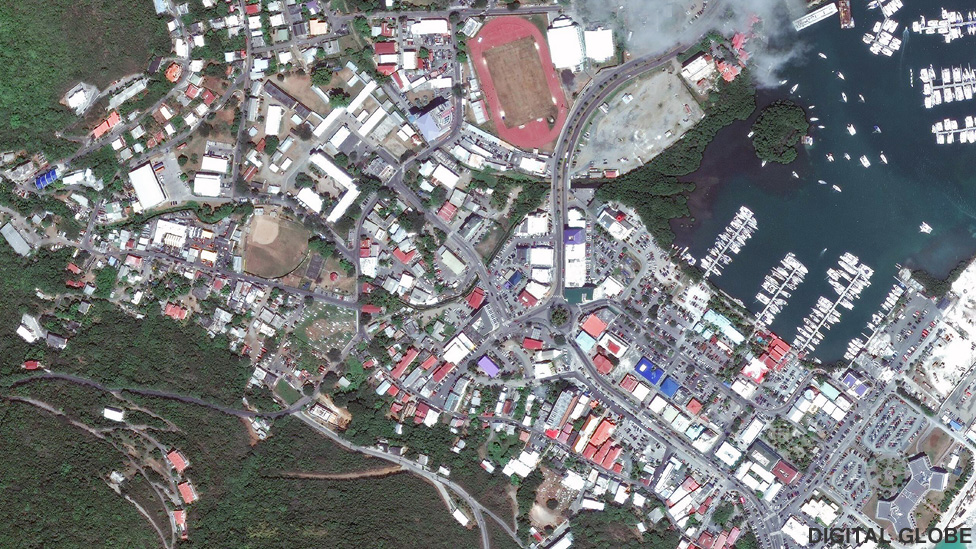 Meanwhile King Willem-Alexander is visiting Dutch territories, where at least four people were killed. He spent Monday night in Sint Maarten – the Dutch side of Saint Martin – and is due to travel on to other islands.
"I've seen proper war as well as natural disasters before, but I've never seen anything like this," he told Dutch radio on Tuesday. "Everywhere you look there's devastation, you see the collapse."
Interactive

See how Providenciales, Turks and Caicos, has been damaged by Hurricane Irma

10 Sep 2017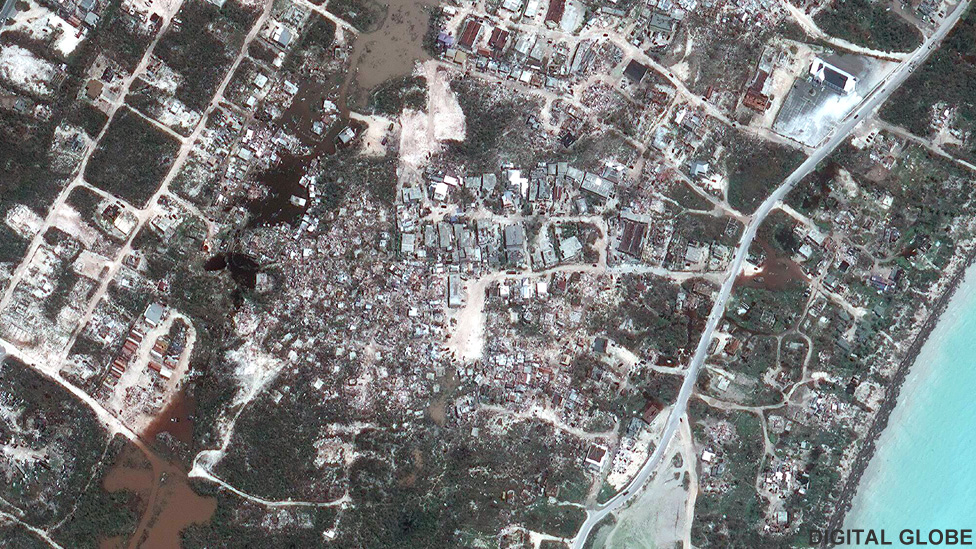 1 Jan 2016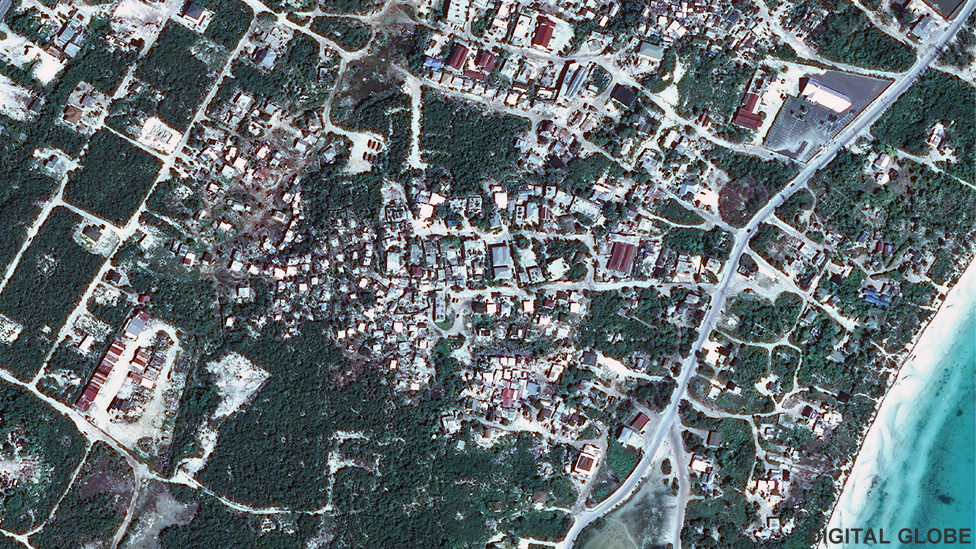 Irma struck other Caribbean islands with deadly force, including Cuba, Barbuda, Puerto Rico and the US Virgin Islands.
On the US mainland, it has been linked to 10 deaths since the weekend. The Florida Keys, the low-lying islands that bore the brunt of the hurricane, are to re-open after being isolated.
Some 60% of homes in the state are still without power. Irma has since rapidly weakened.
The storm was downgraded as it moved north into Georgia, the National Hurricane Center (NHC) said in a statement.
Which areas were hit before Florida?
Irma has been the most powerful Atlantic storm in a decade, and caused widespread destruction on several Caribbean islands:
Cuba: At least 10 people were killed, officials say. Three-quarters of the population are without power
Saint Martin and St Barthélémy: Six out of 10 homes on St Martin, an island shared between France and the Netherlands, are now uninhabitable, French officials say. Ten people died in the French territories while four are known to have died in Dutch Sint-Maarten
Turks and Caicos Islands: Widespread damage, although extent unclear
Barbuda: The small island is said to be "barely habitable", with 95% of the buildings damaged. One death has been confirmed
Anguilla: Extensive damage with four people confirmed dead in the British overseas territory
British Virgin Islands: Widespread damage reported, and five dead
Puerto Rico: More than 6,000 residents of the US territory are in shelters and many more without power. At least three people have died
US Virgin Islands: Damage to infrastructure was said to be widespread, with four deaths confirmed