India child gang rape trial begins in fast-track court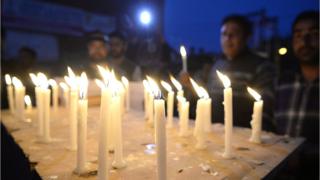 Eight men accused of the rape, torture and murder of an eight-year-old Muslim girl in Indian-administered Kashmir have pleaded not guilty in a specially convened fast-track court.
The body of the victim, who belonged to a Muslim nomadic tribe, was found in a forest on 17 January near Kathua city of Indian-administered Kashmir.
Outrage over the case has been growing.
The trial began amid reports of another child being raped and murdered in the western state of Gujarat.
The victim in this case is yet to be identified, but a police report detailing the extent of the injuries inflicted on her has been making headlines in the country.
The Kathua rape case made headlines last week when Hindu right-wing groups protested over the arrest of the eight men, whose community had been involved in a land dispute with the Muslim nomads.
Outrage grew after two ministers from India's ruling Hindu nationalist Bharatiya Janata Party (BJP) attended a rally in support of the accused men. Details of the injuries inflicted on the minor victim have also horrified many Indians.
The accused include a retired government official, four police officers and a minor.
The minor will be tried separately in accordance with India's juvenile act.
The Jammu and Kashmir government has appointed two special public prosecutors for the case.