Las Vegas shooting: Trump tribute to emergency 'heroes'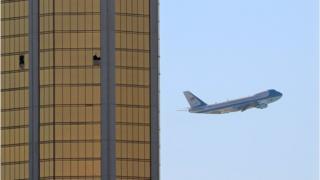 President Donald Trump visited first responders who attended the Las Vegas shooting on Sunday, saying he was "in the company of heroes".
"America is truly a nation in mourning" following the worst shooting in modern US history, he said.
The attack left 58 people dead and more than 500 injured.
"In the depths of horror, we will always find hope in the men and women who risk their lives for ours," Mr Trump said.
Applauding the wounded officers he had visited earlier in hospital, he said: "When the worst of humanity strikes – and strike it did – the best of humanity responds."
"Words cannot describe the bravery that the whole world witnessed on Sunday night. Americans defied death and hatred with love and with courage," he said.
First Lady Melania Trump joined the president to meet some of the victims and emergency responders on Wednesday.
Mr Trump told reporters at the University Medical Center in Las Vegas: "I have to tell you it makes you very proud to be an American when you see the job that they've done."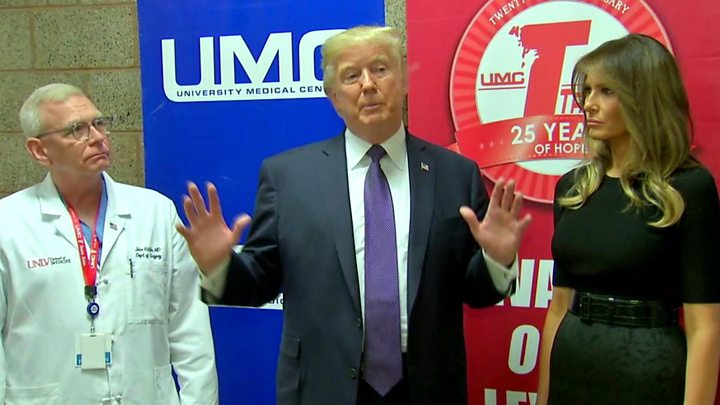 The gunman, Stephen Paddock, shot himself dead as police approached.
His girlfriend was being questioned on Wednesday by the FBI after arriving in Los Angeles from the Philippines on Tuesday night.
The president was joined by House Majority Leader Kevin McCarthy, Nevada congressman Mark Amodei and Nevada Senator Dean Heller, who had constituents killed in the attack.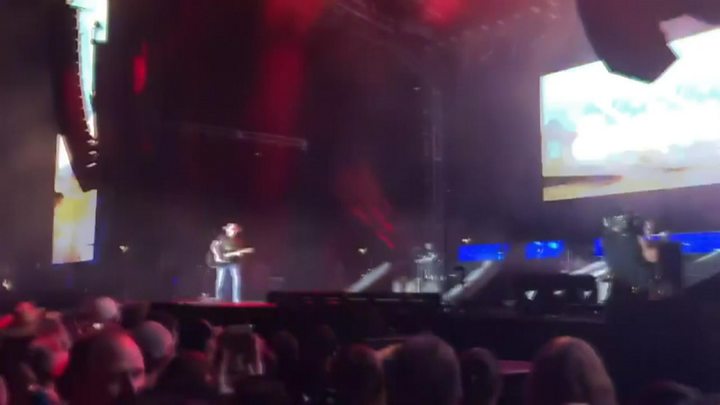 On Sunday, Paddock, a 64-year-old retired accountant with no criminal record, unloaded his gun into a crowd at a country music festival from the 32nd floor of his suite at the Mandalay Bay Hotel.
He had some 23 weapons with him and had set up cameras both inside and outside the suite to see anyone approaching the room, police said.
Witnesses described hundreds of shots being fired. What sounded like automatic gunfire can be heard on videos from the scene.
Is the gunman's girlfriend a suspect?
Police have yet to establish a motive for the attack but took Paddock's girlfriend, Marilou Danley, for questioning after she arrived in Los Angeles from the Philippines on Tuesday night.
US authorities have named Ms Danley a "person of interest" in their investigation and said they made contact with her shortly after the shooting.
Paddock reportedly wired $100,000 (£75,400) to her in the Philippines, where she had been since late September, before the rampage, local media have reported.
Her sisters told Australian outlet 7News that Ms Danley had not known about the trip until Paddock told her he had bought her a ticket to the Philippines.
"She was sent away… so that she will not be there to interfere with what he's planning," they said.
Paddock checked into the Mandalay Bay Hotel on 28 September, reportedly using some of Ms Danley's identity documents.
The Philippines' National Bureau of Investigation told AFP news agency it was investigating reports that Paddock sent $100,000 to Ms Danley in the Philippines days before the shooting.
An unnamed US official told Reuters news agency that investigators were assuming the amount was intended as a form of life insurance.
What do we know of the gunman?
Paddock, who had a big gambling habit, lived in a community of senior citizens in the small town of Mesquite, north-east of Las Vegas.
He reportedly shared his house there with Ms Danley.
Nineteen firearms, some explosives and several thousand rounds of ammunition with electronic devices were found at the property.
According to reports, Paddock had a troubled upbringing – his father was a bank robber who regularly beat him and his three brothers, while his mother struggled to cope bringing up the family.
Will the attack trigger more demand for gun controls?
The shooting has prompted calls for reform to US gun laws.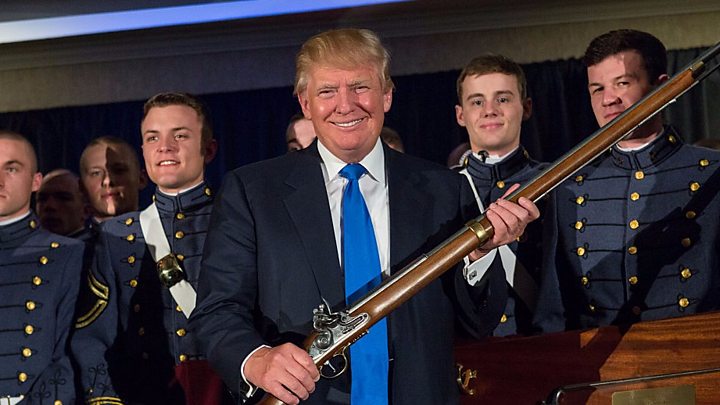 But Mr Trump – who has been backed by the National Rifle Association, and spoke often of protecting gun rights during his campaign – has tried to steer clear of leaning too far either way.
After visiting Puerto Rico on Tuesday, he said "perhaps that [time] will come" for a debate.