Multiple pedestrians hit by van in Toronto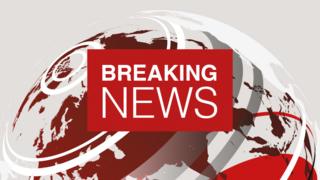 Several pedestrians have been hit by a van in Toronto, say police in the Canadian city.
The collision occurred at a busy intersection, and up to 10 people may have been struck, say officials.
The van fled the scene after the incident, at the intersection of Yonge Street and Finch Avenue, police say.
The incident happened at 13:30 local time (17:30 GMT) on Monday. Police have asked the public to avoid the area. Nearby subway services were halted.
"Reports were that a white van mounted the curb, drove down the sidewalk at southbound Yonge, south of Finch, and struck eight to 10 people possibly, the numbers aren't confirmed yet," Toronto police spokesperson Gary Long told Canadian broadcaster Global News.
Pictures apparently taken at the scene show police armed with rifles and paramedics treating injured people.
One orange bag, which appears to contain a body, is seen being loaded on to an ambulance.
The vehicle was located several blocks away, and the driver was taken into custody alive, according to a reporter from City News in Toronto.