Myanmar crisis: Bangladesh PM in Rohingya plea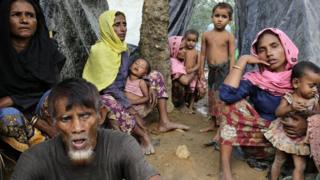 Bangladesh's prime minister has urged Myanmar to take back hundreds of thousands of Rohingya Muslims who have fled violence in Rakhine state.
Speaking as she visited a refugee camp, Sheikh Hasina urged Myanmar to view the situation with humanity, saying innocent people were suffering.
Some 370,000 Rohingya have crossed the border since violence began last month.
Myanmar's military says it is fighting Rohingya militants and denies it is targeting civilians.
But many of those who have fled say troops responded to attacks by Rohingya militants on 25 August with a brutal campaign of violence and village burnings aimed at driving them out.
The BBC has spoken to Rohingyas maimed by landmines as they fled Myanmar. Bangladeshi sources say Myanmar's army recently planted new mines – an allegation denied by Myanmar officials.
The Rohingya, a stateless mostly Muslim minority in Buddhist-majority Rakhine, have long experienced persecution in Myanmar, which says they are illegal immigrants.
Bangladesh is already home to hundreds of thousands of Rohingya who have fled previous outbreaks of violence in Myanmar.
Its two official refugee camps are full and aid agencies say the new arrivals desperately need food, shelter and medical help.
'These people… are suffering'
Sheikh Hasina's comments came as she visited the Kutupalong camp, one of the official camps.
"My personal message is very clear, that they should consider this situation with the eyes of humanity," she told the BBC.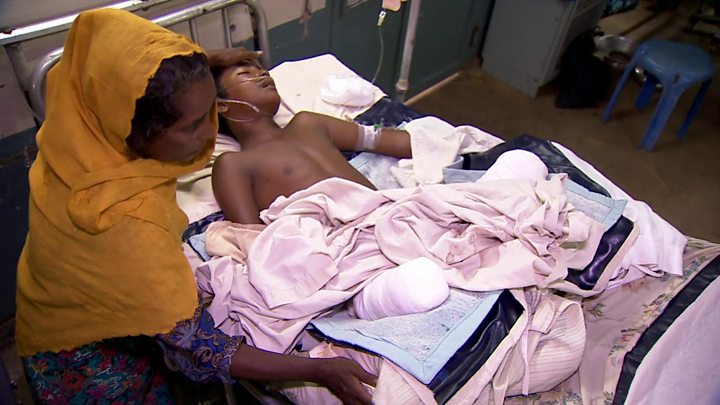 "Because these people, innocent people, the children, women, they are suffering. So these people, they belong to Myanmar. Hundreds of years they are staying there. How they can deny that they are not their citizens?"
The Bangladesh prime minister said her country would offer Rohingyas shelter until Myanmar took them back.
She also condemned the militants for their role in the violence, but said Myanmar's government should have dealt with the situation more patiently.
International condemnation grows
On Monday UN human rights chief Zeid Raad al-Hussein said the security operation in Rakhine appeared to be "a textbook example of ethnic cleansing".
Late on Monday the White House issued a statement calling on Myanmar's security forces to "respect the rule of law, stop the violence, and end the displacement of civilians from all communities".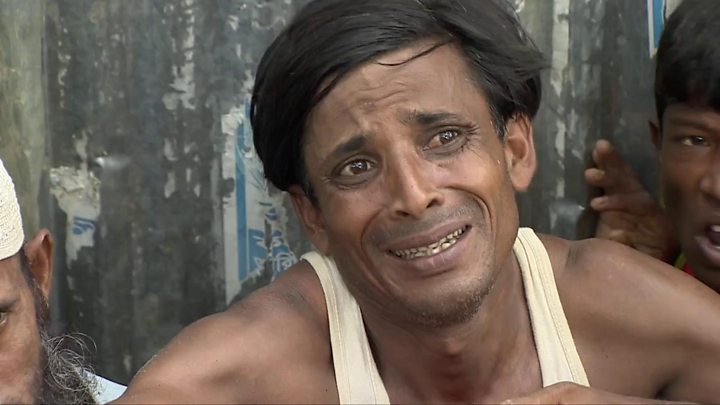 Myanmar's foreign ministry said it welcome statements from the UN and other countries "firmly condemning the terrorist attacks" and said troops were being ordered to exercise "all due restraint" as they worked to restore stability.
The UN Security Council is due to meet on Wednesday to discuss the Rakhine crisis.