Nikki Haley: US ambassador to UN resigns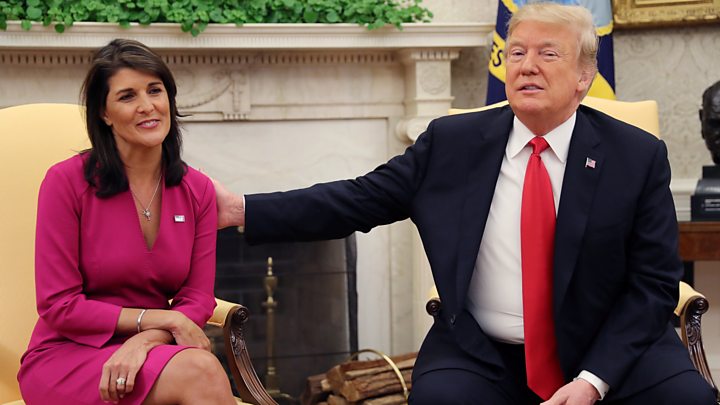 US President Donald Trump has accepted the surprise resignation of UN Ambassador Nikki Haley.
He told reporters in the Oval Office alongside Mrs Haley that she would be leaving the post at the end of the year after doing "an incredible job".
The 46-year-old former South Carolina governor – who is one of the few women in the Trump cabinet – gave no reason for her exit after two years.
But she dismissed speculation she was planning to run for president in 2020.
Mrs Haley told journalists she would be campaigning for "this one", pointing to Mr Trump.
"I don't have anything set on where I'm going to go," she said.
"It's been eight years of intense time, and I'm a believer in term limits.
"I think you have to be selfless enough to know when you step aside and allow someone else do the job."
Watch this space
Analysis by Nick Bryant, BBC UN correspondent
Through the revolving door of the Trump administration goes another high-level departure: UN ambassador Nikki Haley, by far the most high-profile woman in the cabinet, and an internationalist who's done much to protect the United Nations from Donald Trump's anti-globalist wrecking ball.
She was a strident critic of Russia and Syria at the UN, and also fiercely critical of what she claimed was the global body's anti-Israel's bias. She supported shutting off US funding for the UN's Palestinian refugee agency and revelled in defending the Trump administration's decision to move its embassy in Israel from Tel Aviv to Jerusalem in the face of an acid show of international criticism. She was also instrumental in pressuring China to support a tough sanctions regime against North Korea.
Sometimes, however, her style grated with colleagues. Her aggressive and repeated warnings about compiling a list of countries that didn't back the United States irritated even close allies. Yet it's often said that the UN's biggest peacekeeping mission is directed against the Trump White House, and Nikki Haley was seen as a valuable ally.
A former governor of South Carolina, she's a talented retail politician who's widely spoken of as a future female US president. Though she has ruled out challenging Donald Trump in 2020, we have not heard the last of Nikki Haley.
Mr Trump said Mrs Haley had told him six months ago she wanted to take some time off.
The president said she "has been very special to me, she has done an incredible job, she is a fantastic person, very importantly, but she is also somebody that gets it".
"Hopefully you'll be coming back at some point, right," Mr Trump said. "Maybe a different capacity, you can have your pick." Mrs Haley laughed.
Mr Trump said he would be naming her replacement in the next two to three weeks.
As he departed the White House, Mr Trump said that his daughter Ivanka "would be dynamite" as UN ambassador, but added that he would be accused of nepotism if he chose her.
Who is Nikki Haley?
Born Nimrata Randhawa to Indian immigrant parents, she was raised as a Sikh in Bamberg, South Carolina, later converting to Christianity
Her first job as a 13-year-old was bookkeeping for her family's clothing store
In 2010, she became South Carolina's first female and first minority governor – and youngest governor in the US – and was re-elected in 2014
She received nationwide praise for removing the Confederate flag from the state capitol after a mass shooting on black churchgoers in Charleston in 2015
She did not initially endorse Mr Trump during the 2016 campaign, instead backing Florida Senator Marco Rubio
Mrs Haley is married to Army National Guard Captain Michael Haley, and they couple have two teenage children
Mrs Haley's resignation comes a day after an anti-corruption watchdog accused her of accepting seven luxury private plane trips as gifts from South Carolina business leaders.
Citizens for Responsibility and Ethics in Washington said Mrs Haley had undervalued the cost of the flights by tens of thousands of dollars in an annual financial disclosure report.
In April, Mrs Haley clashed with the White House when a Trump aide suggested she had prematurely announced a round of sanctions against Russia.
White House economic adviser Larry Kudlow suggested she had got "ahead of the curve" and had a "momentary confusion".
But she fired back hours later telling Fox News: "With all due respect, I don't get confused."
Mrs Haley was a frequent critic of Mr Trump during his election campaign.
She had said that women who accused him of sexual assault "should be heard".
At one point she suggested that Mr Trump's rhetoric could trigger a world war.
Republican lawmakers praised Mrs Haley on Tuesday after news of her resignation broke.
Retiring Speaker of the House Paul Ryan said: "She challenged friend and foe to be better."
South Carolina Senator Lindsey Graham said she had been "a true agent of reform" at the UN.
Senator Robert Menendez, the top Democrat on the Senate Foreign Relations Committee, called her departure "yet another sign of the Trump Administration's chaotic foreign policy".
He added that he is "deeply concerned about the leadership vacuum she leaves and the national security impact of her departure at this time of continued disarray".