Notre-Dame cathedral: Firefighters tackle blaze in Paris
A major fire has engulfed one of France's most famous landmarks – the medieval Cathedral of Notre-Dame in Paris.
Firefighters are battling to save the 850-year-old Gothic building, but its spire and roof have collapsed.
The cause is not yet clear, but officials say that it could be linked to renovation work.
A Paris fire official said the main structure had now been "saved and preserved".
The Paris prosecutor's office said it has opened an inquiry into "accidental destruction by fire."
Loud bangs could be heard as flames burst through the cathedral's roof, also destroying its stained-glass windows.
All efforts are now being put into saving the cathedral's artwork and preventing the collapse of its northern tower.
Thousands of people have gathered in the streets around the cathedral, observing the flames in silence. Some could be seen openly weeping, while others sang hymns or said prayers.
Several churches around the French capital have been ringing their bells in response to the blaze.
French President Emmanuel Macron, who has arrived at the scene, said his thoughts were with "all Catholics and all French people."
"Like all of my countrymen, I am sad tonight to see this part of us burn."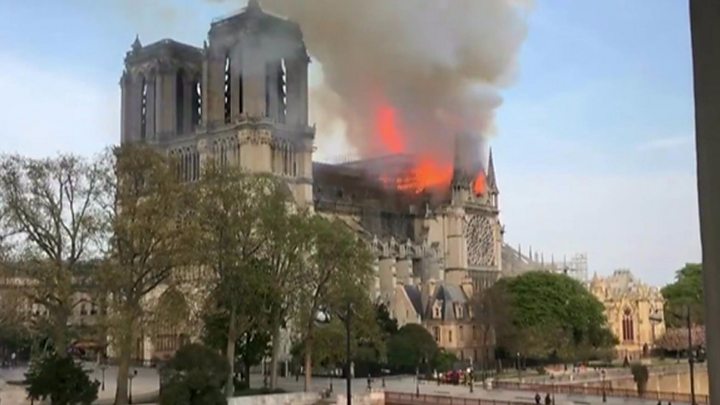 Mr Macron had earlier cancelled an important TV speech to the nation because of the fire, an Élysée Palace official said.
A spokesman for the cathedral said the whole structure was "burning".
"It remains to be seen whether the vault, which protects the cathedral, will be affected or not", he said.
Interactive

Notre-Dame cathedral fire

After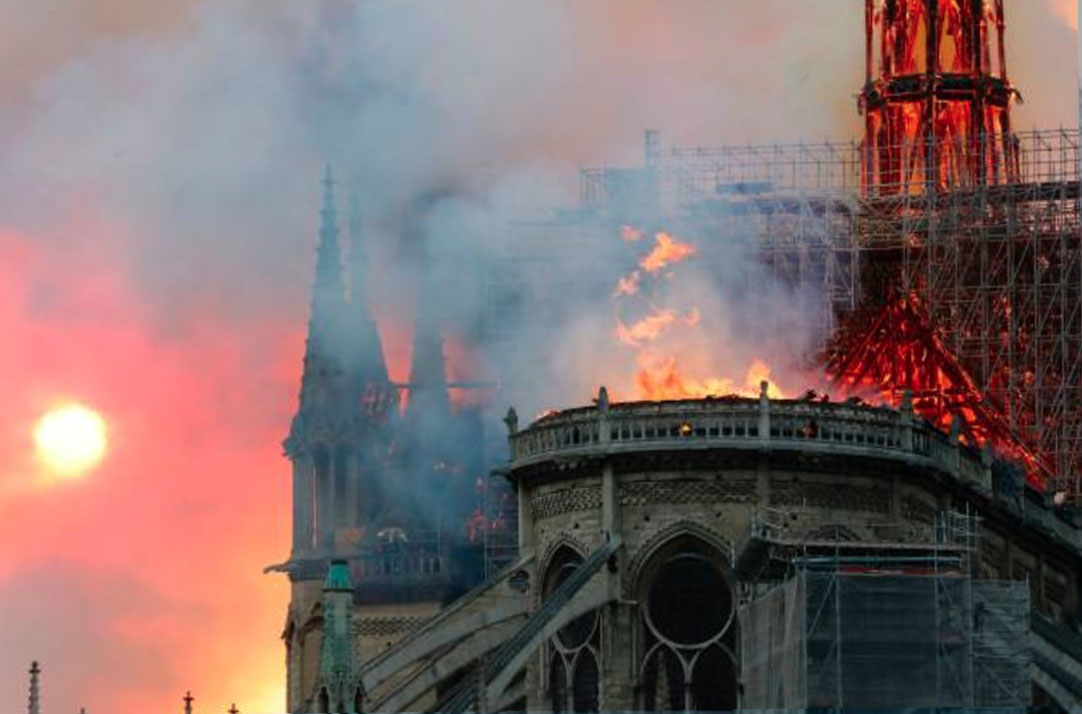 Before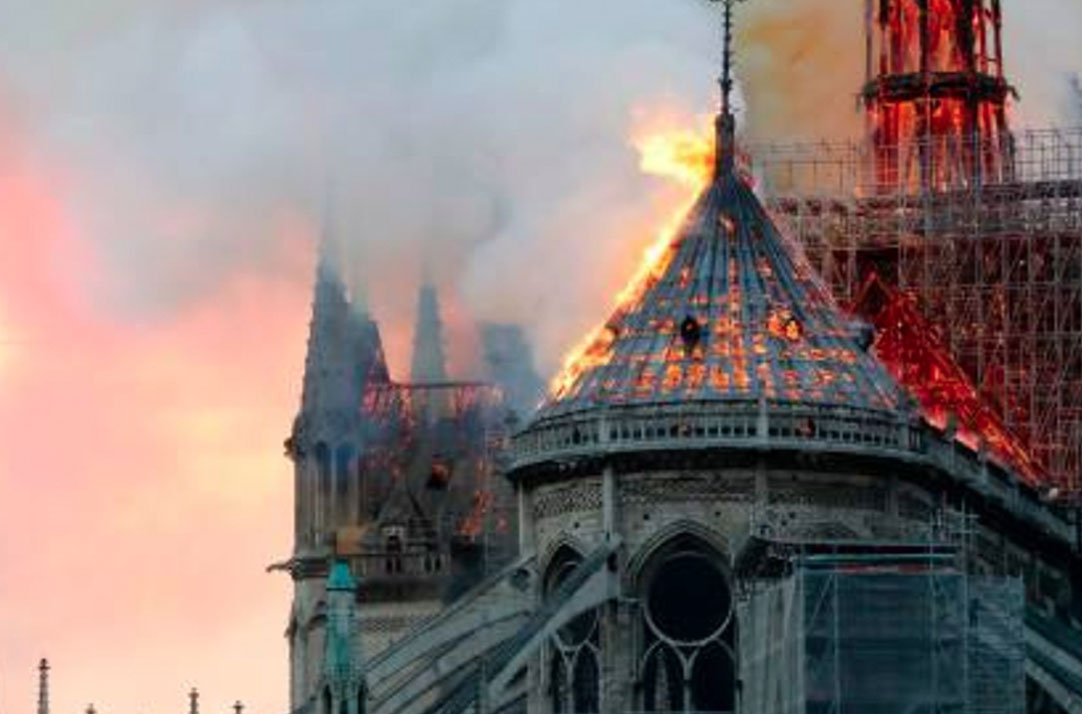 Historian Camille Pascal told French broadcaster BFMTV the fire was destroying "invaluable heritage."
"For 800 years the Cathedral has watched over Paris", he said.
"Happy and unfortunate events for centuries have been marked by the bells of Notre Dame.
"We can be only horrified by what we see".
The mayor of Paris, Anne Hidalgo urged people to respect the boundaries set up by fire crews in order to ensure that they remain safe.
"There are a lot of art works inside…it's a real tragedy," she told reporters.
A symbol of a country
Analysis by Henri Astier, BBC World Online
No other site represents France quite like Notre-Dame. Its main rival as a national symbol, the Eiffel Tower, is little more than a century old. Notre-Dame has stood tall above Paris since the 1200s.
It has given its name to one of the country's literary masterpieces. Victor Hugo's The Hunchback of Notre-Dame is known to the French simply as Notre Dame de Paris.
The last time the cathedral suffered major damage was during the French Revolution. It survived two world wars largely unscathed.
Watching such an embodiment of the permanence of a nation burn and its spire collapse is profoundly shocking to any French person.
"I have a lot of friends who live abroad and every time they come I tell them to go to Notre-Dame," eyewitness Samantha Silva told the Reuters news agency.
"I've visited it so many times, but it will never be the same. It's a real symbol of Paris."
US President Donald Trump suggested "perhaps flying water tankers" could be used to extinguish the fire.
Germany's Chancellor Angela Merkel has offered her support to the people of France, calling Notre-Dame a "symbol of French and European culture".
"My thoughts are with the people of France tonight and with the emergency services who are fighting the terrible blaze at Notre-Dame cathedral", UK Prime Minister Theresa May said in a tweet.
The Vatican has said news of the fire has caused "shock and sadness," adding that it was praying for the French fire services.
The Notre-Dame cathedral, a popular tourist attraction, was undergoing renovations after cracks began to appear in the stone, sparking fears the structure could become unstable.
Last year, the Catholic Church in France appealed for funds to save the building.
---
Facts about Notre-Dame
The church receives almost 13m visitors each year, more than the Eiffel Tower
It was built in the 12th and 13th Centuries and is currently undergoing major renovations
Several statues of the facade of the Catholic cathedral were removed for renovation
The roof, which has been destroyed by the blaze, was made mostly of wood
---
Are you in the area? Did you witness the fire? Emailhaveyoursay@bbc.co.uk
Please include a contact number if you are willing to speak to a BBC journalist. You can also contact us in the following ways: